If it hadn't been for your gaze (with Spanish version included)
How much has it hurt me to have had this longed for moment the way it was! I just desired to hold you in my arms, get you close to my body, to feel as one again. I needed you as much as you needed me. My instinct was discarded. I wanted to be your mother. I couldn't give you a hug. I sent to look after you my representative, your dad. He did good. He held you. He knew how and where you were. Grandparents came and held you too. I was left there. My only way of recovering was joining you again. I felt you were hungry. Nobody attended me. I demanded them to do it. It hurt. Yet not as much as our separation. I haven't even taken a good look at your face. Mom doesn't have a good eyesight. They moved me and didn't bring you. I had visitors, but still not my brood. If it hadn't been for your gaze… You waited for me. I waited for you. Tired. Hurt. I nursed you. I already had you. Between drugs, pains, ignorance, loneliness, a big nightmare, in my arms I kept you. Your daddy fell asleep. The nurses were leaving. And I, quiet-like, held you between my arms while you slept. Thank you for gazing at me that day.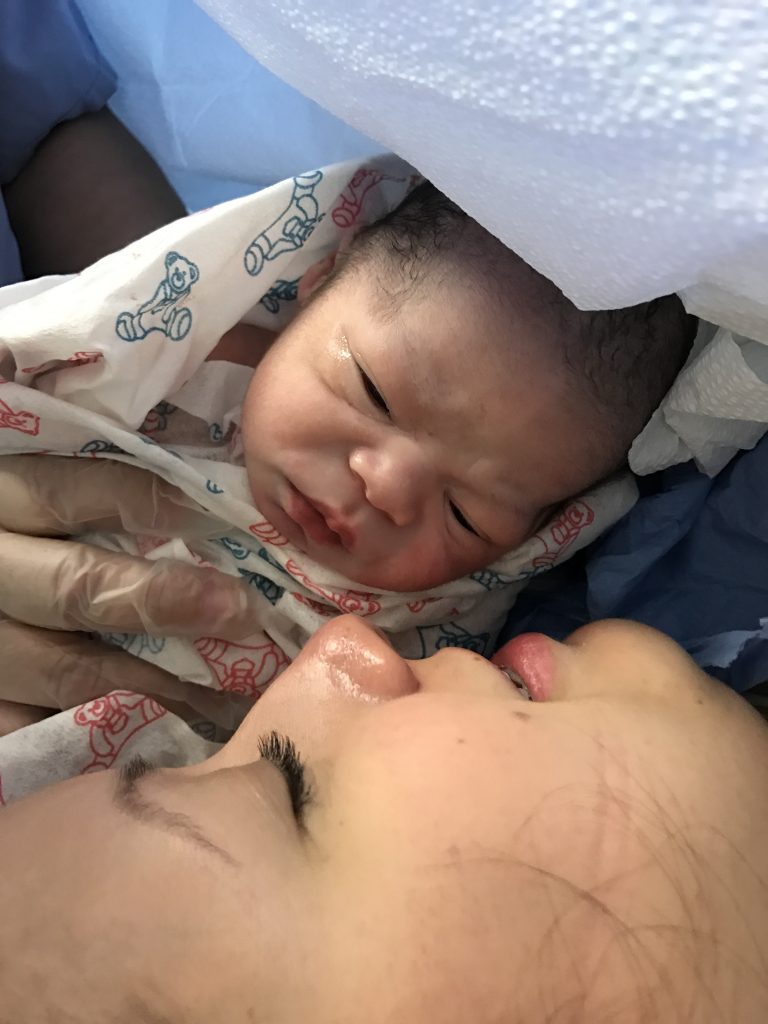 Si no fuese por tu miradita
¡Cuánto me ha dolido que este encuentro tan esperado fuese así! Sólo deseaba tenerte en mis brazos, acercarte a mi cuerpo, sentirnos uno de nuevo. Te necesitaba tanto como tú a mi. Mi instinto era descartado. Quería ser tu madre. No te pude abrazar. Te mandé a velar por mi representante, tú papá. Hizo bien. Te cargó. Sabía dónde estabas y cómo. Vinieron abuelos y te cargaron también. Me dejaron allí. Mi única manera de recuperarme era uniéndome a ti de nuevo. Sentía que tenías hambre. No me atendían. Exigí que lo hicieran. Dolía. Mas no tanto como nuestra separación. Ni había visto bien tu carita. Mamá no tiene buena vista. Me movían y no te traían. Tuve visitas y aún no a mi cría. Si no fuese por tu miradita… Me esperaste. Te esperé. Cansada. Dolida. Te lacté. Ya te tenía. Entre drogas, dolores, desconocimiento, soledad, una gran pesadilla, en mis brazos te mantenía. Tu papi se dormía. Las enfermeras se iban. Y yo, calladita, entre mis brazos agarrado te sostenía mientras tú dormías. Gracias por mirarme ese día.