How to set up your Nursery in 7 steps
Being a first time mom, setting up a nursery was new territory for me. It took a while until I decided on a theme for décor. And, even though I enjoy organizing, it felt like a guessing game trying to think where things, I had never used, should be.
After some time of searching different ideas, finally I decided. At first, I was kind of torn between safari animals or forest. My husband inclined more towards one and I the other. Sports theme was a no for me. I thought my son could eventually develop an interest in them and the room would be decorated like that later on. Noah's Ark won. We could happily fit all the animals in one place, teach him their names, sounds, was gender neutral and, most of all, about love.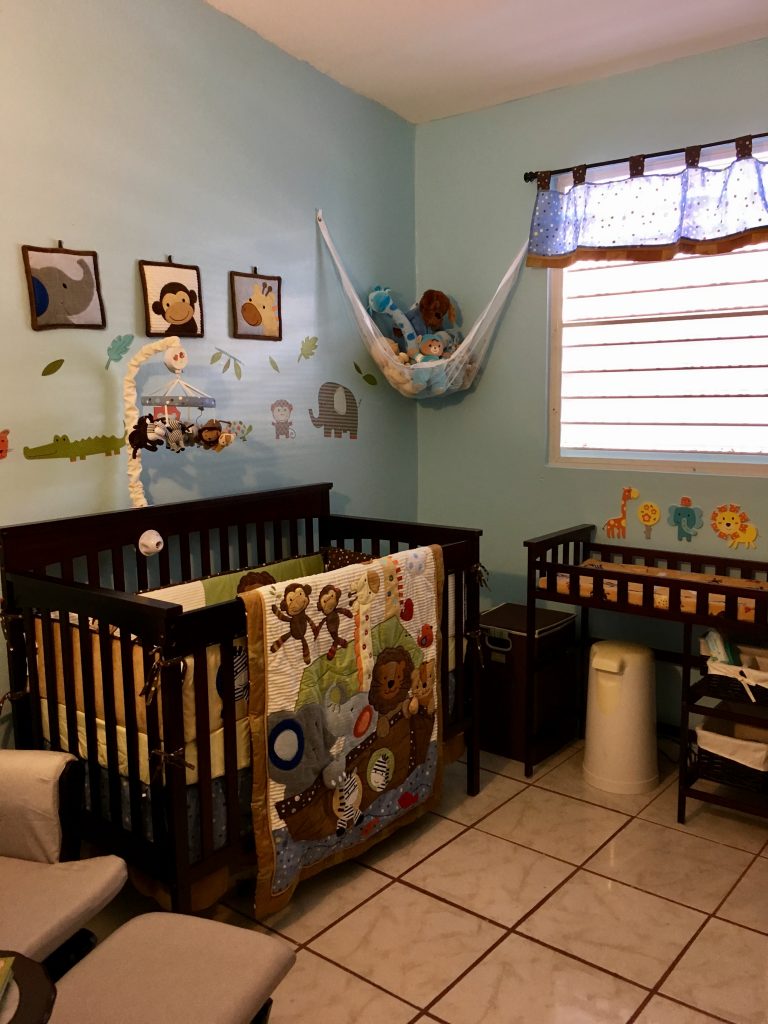 Here, I will brake down in simple steps how I prepared my baby's nursery:
First, we decided on a color for the walls.This was hard for me, although I'll leave the details for another blogpost. We ended up with a shade of blue I could play with to seem like sky and/or ocean. The painting of the walls, which included the inside of the closet, was done before the Baby Shower, by my hubby.
Second were the closet curtains and top closet doors. We did this one right after painting the walls. When dried, of course, my husband installed a long rod to put two big curtains as closet doors. I decided on this because I didn't want my baby to smash a finger with a heavy door, it would be easier for him to access his toy box, it was inexpensive plus the room needed an extra fabric. It's heavy and good sturdy material, not see through. The color is a dark brown to compliment the arc theme, furniture and accessories. Additionally, I though my son could hide behind the curtains and play, which he does! And on the top closet doors we kept the playard and a plastic container with clothes for him when older.
Third, 'we' moved around the furniture. The room isn't big so we had to be smart. The crib was the focal point against the biggest wall in the room. The gliding chair with ottoman were on the side of the crib, close to the light switch. I though I could watch, breastfeed and turn off the lights easily from there. Next to the chair I put a small side table, that we had diy when I was in college, (way before we were legally married 😆). I though this would come in handy. Below the only window, we placed the changing table with the hamper on one side and the trash can under. You will also see from the photos, we had our baby stroller on the floor against the wall between the closet and changing table. There it was of easy access and didn't took space because it folds in half.
Fourth, I organized every single item you could imagine, as every mother does.In the video I posted on social media, it's kind obvious the clutter of baby things the room was stuffed with. I had to take things out by category and organize them in the living room. After doing that, I placed the hanging clothes, which were most of them, on the highest hanging rod in the closet, we had two. I organized his socks inside of a craft divider and hanged it with his clothes. A medium size plastic drawer with three divisions and wheels was enough space for onesies, pajamas and extra items that didn't have a specific place yet. To its side was the toy box which was bought a couple of months after his birth. It was a perfect fit, literally. The closet has five shelves. On the highest one I put folded blankets and an elephant bin with smaller ones. The shelve under it was for extra sheets and a lion bin with towels folded like a roll. The middle shelve had some hats and baby beanies with the third giraffe's bin, perfect for all the bibs. The fourth shelve had every baby burp cloth. It was filled from top to bottom. They are placed on the parents shoulder, usually under the baby. This is something done commonly in our culture. We were gifted a lot of them, many handmade. And the last shelve, or first from the ground up, was for every item we needed fast when about to leave. Under the shelves there is a space that fitted perfect the baby's bag and backpack, filled and always ready to take in case of an emergency or just plain tiredness, in our case. Under the crib, we have another plastic storage container with wheels which has quilts and thick blankets.
Fifth, the fun stuff, decoration.For the walls, I used decals instead of painting a mural. I knew I would be heartbroken to paint over it in the future. That was my reason for this decision. When decorating with my husband and sister in law, I found out how fun and easy this decision turned out to be. I told them where and how I though the decals should be and we all just had fun sticking them on. I truly believe in having an artistic vision and then trusting, letting things flow. They end up better that way, as long as your vision is understood. Some decals were sticked on top of the crib in a horizontal line. And the ones made out of foam, which were an unexpected gift from a friend, I decided to put on a horizontal line on the side of the changing table. I believed this would act as a distraction for my son. It did! The wall on the other side to the crib just had a big diy rainbow, two raindrops and a cloud, some of it was from the Baby Shower. The sun, for me, was the lightbulb. Then you get to the door where we placed a diy rustic sign painted in wood and on it was written: El Arca de Dariel, in Spanish, Dariel's Ark (my son's name). The smallest wall between the closet and the door, we just put two nails with a rustic thread tied between the two of them. This was high so the baby could see them when standing from the crib. Hanging there were grandparents, aunts, uncle, the doggies and parents' pictures plus other images mostly related to Christmas time. Last, one side of the wall to the changing table was where we nailed two diy shelves for books or just décor. And to the other side of that wall we placed high a, sort of, hammock for plush toys.
Sixth, almost done: the changing table.It ended up being under the only window in the room. I was sure that having it there would help when a diaper stank. This was accurate. Our changing table as the crib were a hand me down from a friend. Everything was in great condition. We just added two shelves to it. This was my husband's project, which turned out great. On top of them I put two baskets, one on each shelve, with creams inside, cloth wipes, basic cleaning supplies, 'snappies' and cover for the cloth diapers, some cloth plus disposable diapers. Also, we bought a wipe warmer, following an advice from an experienced mom. The disposable wipers were inside the hamper to the side of the changing table. Lastly, on the top we put the matching, theme of the room, cover with the plastic protection for future accidents, a hand sanitizer and a diaper cream.
Last, extra lights, accessories:At the end of the walls, there's a rail where the floor tiles start, (in Puerto Rico we use tiles, not carpet). My husband decided to add some lights that change color and intensity. This really set the mood of the entire room and was a another good healthy stimulant for the baby. Another accessory we had around was a bin with a handle that we could move, take anywhere needed. It has a lot of different size pockets. Here, I had everything bath related, medicines with its utensils, some diaper changing stuff to go. The idea was that we could have this with us, in our room for example, and we didn't have to get up to change him. Later on, I added a fake sheep skin small rug. It went great with the theme.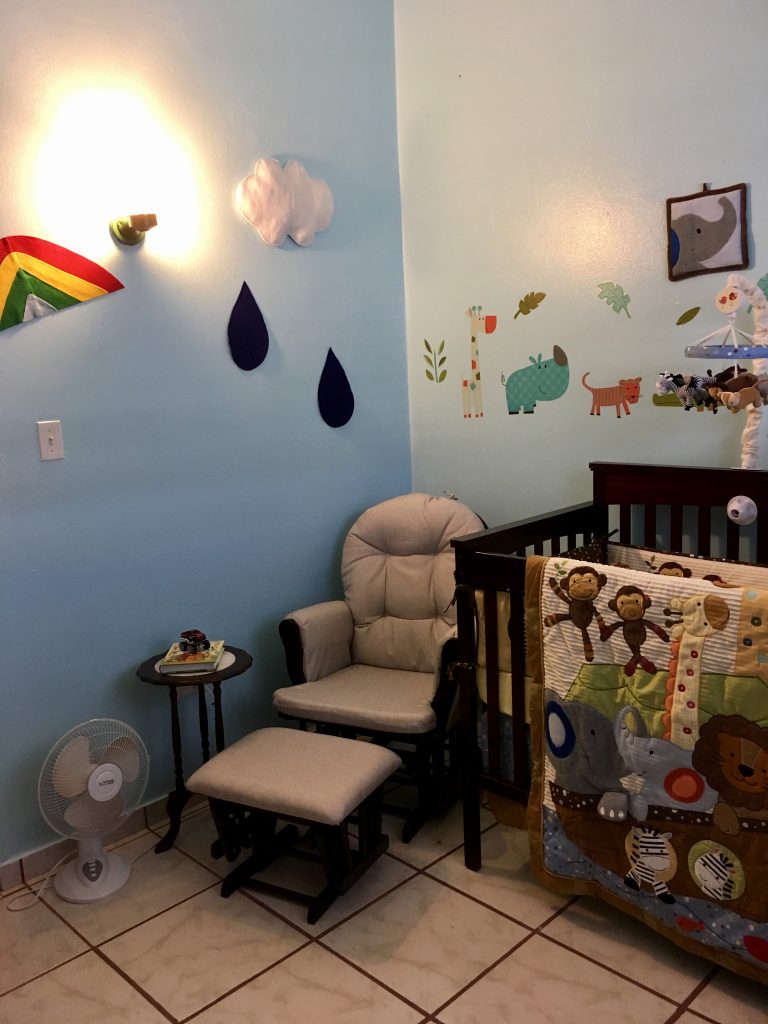 I may have forgotten useful details. For example, we used the same color paint for the top closet door, the sign that said Dariel's Arc on top of the door, the wall and changing table's shelves. We wanted it to look rustic and a little bit imperfect, like dark stained wood from an 'arc'. Our baby swing was battery operated. We kept moving it through the house where we needed it at the moment. It was extremely helpful. The jungle gym was mostly in the living room. Yet the item I carried the most everywhere with me was the nursing pillow that, in addition, functioned as support for the baby. Unfortunately, I didn't take pictures of every little detail. Some things, I could only describe for now. On the future, I will document everything, especially the closet organization.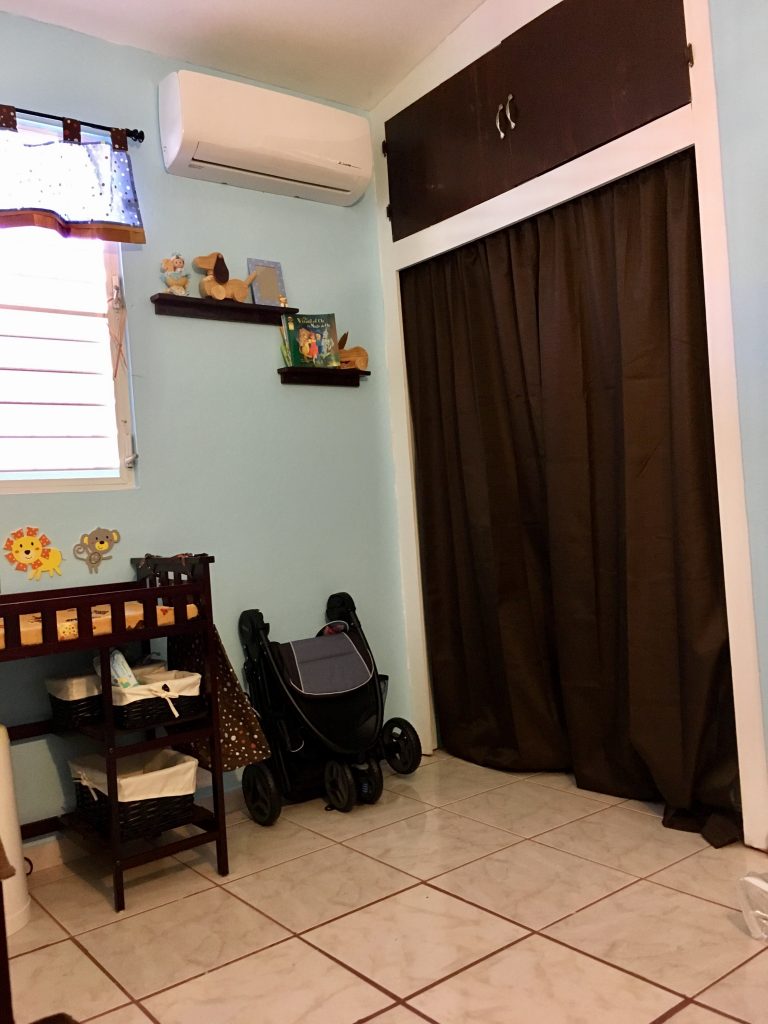 An advice I could give is to accept things aren't perfect and will never be. You might have put everything in its place now, but in practice is when you'll know for sure if it was the correct practical one. Besides, it could be very precise during a certain amount of time and later it'll have to be change as your baby grows. That's inevitable. From a mom's perspective, we all like to see how other mommies organize. We help each other by sharing our learning curve and experience. There's not one way to do things. Be yourself and, hopefully, this post gives you an idea on how to start the journey being justamami.