To visit Centro MAM is a total experience. And it's all due to the quality of the women who work for this entity. I have to clarify that this is not my birth story. This is my small thanks to whom I will forever be grateful: to my midwives.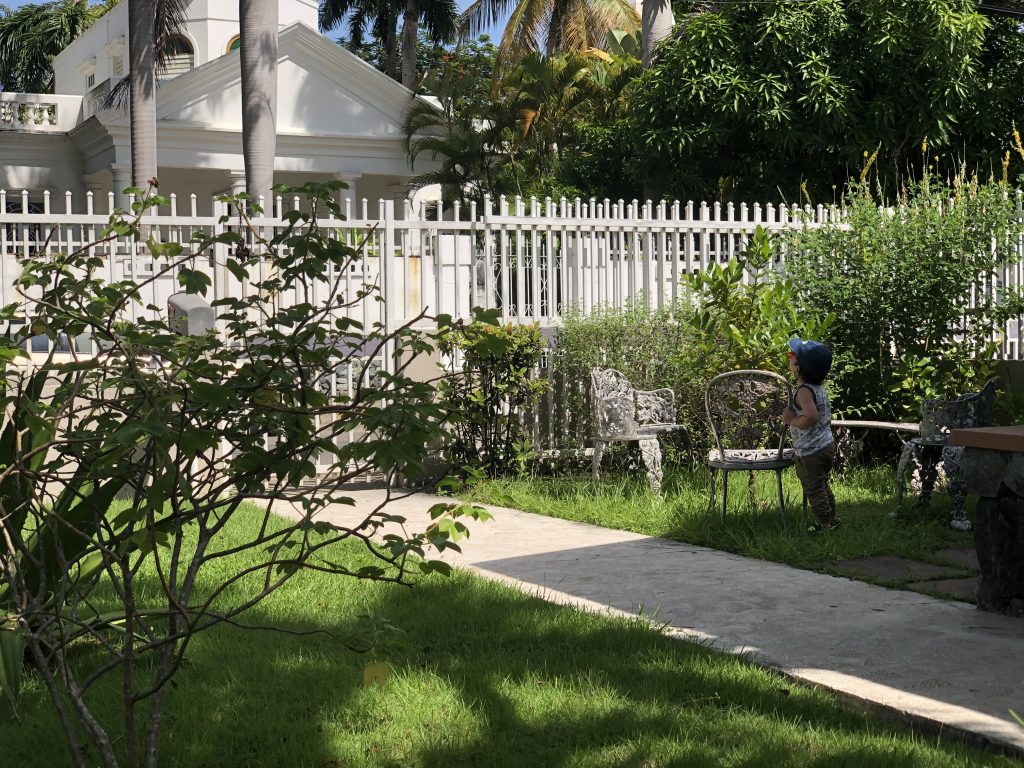 You ring the doorbell and someone opens without knowing who did it. And you enter through a garden that looks like, to my understanding, like that of a grandmother that used to have enchanted gardens. You continue taking steps until you get to the door, which is almost always open by a special being. And you find yourself in the most welcoming reception. It seems to be a very professional family room, in the best sense. But the key to this space is Adriana, the woman to whom I will address later. Then, you take a seat there without understanding this parallel and fantastical universe to which you have entered, that appears to be a utopia. And the catwalk of beautiful unknown energies start.
During my first appointment, I met Vanessa. A very good midwifery student was with her. It was a moment full of nerves for me. I was always very sure of wanting to get pregnant a second time, conscious that this decision wouldn't be easy in many aspects.
The environment was very pleasant, comfortable. I was supposed to talk. I was silent. It was extremely odd to be heard so much in a prenatal appointment. Vanessa was very professional and she made it clear that achieving my birth at home might happen and might not. My husband and I were oriented while our two year old explored the room. I started to learn that there are countless situations that can occur when giving birth, that every birth, creature and woman are a world. I should be prepared for every possibility, let go, trust, be positive and enjoy. I remember that she mentioned healing and thinking that my traumatizing first birth maybe had a purpose. I clarify that all these women have gone through every type of personal, academic, medical, spiritual and professional experience and their knowledge comes from it. They know what they are doing and talking about.
Vanessa: I'm very conscious of my many faces I made while we were together during that first appointment. You are a leader and very secure of yourself. I was traumatized with a thousand hormones, first trimester in all of its glory. I didn't understand half of the things, at that moment. Thanks for talking with straightforwardness during the appointments. Thanks for the mango for my boy and I. Your energy is very necessary. Thank you, thank you, thank you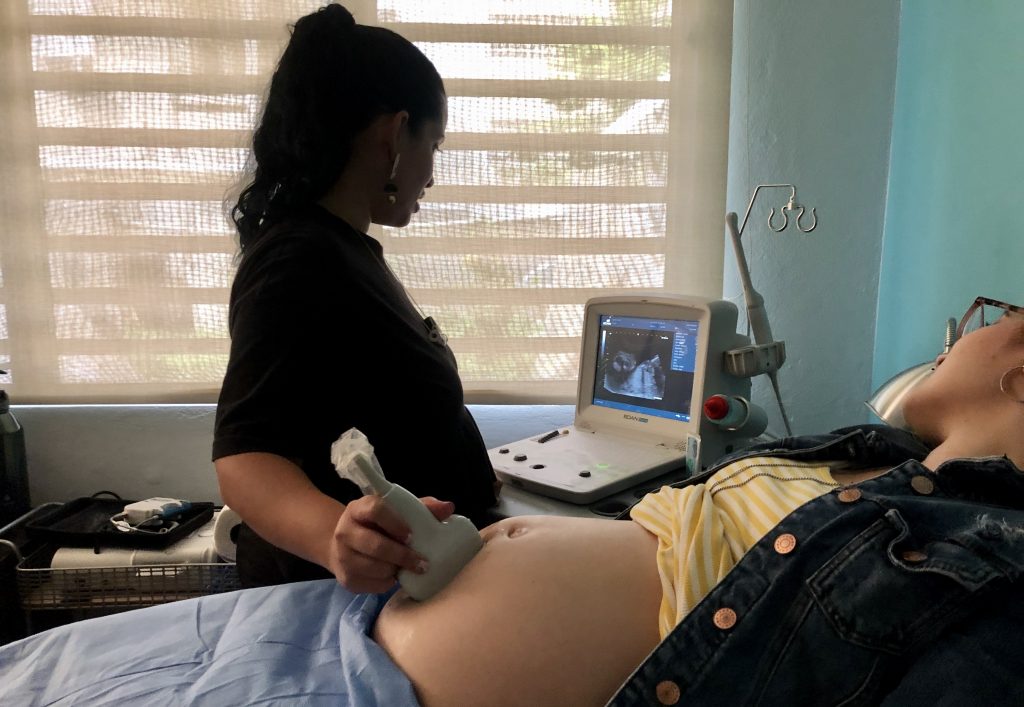 Yarilís: You were one of the first ones I met. That moment wasn't easy. You made it easy. You made me feel good, normal, validated. You allowed and understood, without a problem at all, that I had to be the one who introduced the device for my first transvaginal ultrasound. You confirmed, with the doctor, that my baby's heart was beating and her gender. One day, your daughter, hugged my son. She learned that warmth from her mother. My boy was happy and felt he had a friend. Thanks for not judging my sugar dips and how much my husband and I nag each other. You laughed with us. You made us feel confident. You clarified a lot from a medical and friendly point of view. Thanks for going to my house even sick to take care of me without knowing that I was in labor. Thanks for the massages and understanding my attitude. You were tactful, professional, tough, sincere and loving, very necessary. Thanks for carrying my boy during the postpartum appointment. Thank you, thank you, thank you
Rebecca: I don't think you remember me, but I do you. I met you before being pregnant in an appointment with the gynecologist. I ended going to Centro MAM for a more regular checkup since it was Christmas season and nowhere else was I given an appointment. I remember you because you made me feel safe. To see a gynecologist, after going through the violence of the first birth, traumatized me. Without you there, I would have run away. You helped me without even knowing it. I remember when you said that you were a midwife of the Center. You were the first midwife I had met in my entire life. I confessed fast to you that I was looking to have another child. Your response was very positive, you even told me that I was young. I left feeling safe and peaceful. I could get pregnant and it would be better because I was going to be attended by Centro MAM. Later, you saw me already pregnant. You grounded me from an anxiety attack, praised and helped me down, alongside Yarilís, from the practitioner table after cleaning the gel off my belly. Thank you
Michelle: You were the last midwife I met. However, we had already texted and spoken by cellphone. Without meeting you, I found myself overly grateful to you. I felt you were genuinely concerned, interested in my baby's well being and mine. You didn't know me and that did not matter. Doubts and/or fears of any kind, you dissipated them. When I met you, I was able to put a face to the voice. I got nervous at that moment. I had to learn to let go and trust. And, what a beautiful relationship you created! You won me fast. You became almost a psychologist with your advice. You were such a key. To see you was a balm of peace. It was a gift and a nice surprise to have you and Yarilís in my birth. How lucky I was! The both of you made me feel safe. You praised, helped and centered me. I needed your beautiful energy. Your postpartum home visits made me feel happy. My toddler still mentions, while giving me instructions, that I play with the money from the cash register like Michelle the midwife did. If it was left to me, I would have for you a room at my home. Thank you, thank you, thank you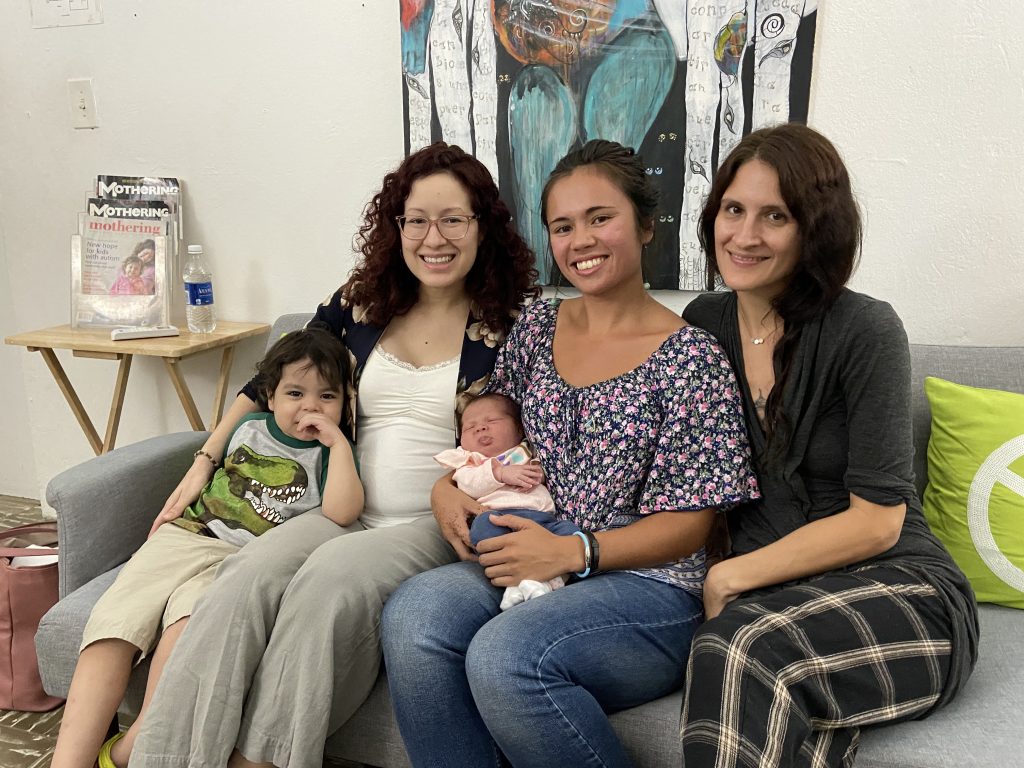 Daphne: You went from being the midwifery student that I knew least to making me feel as if you were like a friend. During my birth, you didn't seem to be just a student. You were very attentive, loving, careful and professional. You understood and respected me. Your energy was also necessary. Your hands were the first ones to touch my child. Thank you, thank you, thank you
Jessica: You always attended me with utmost kindness. Little by little, you earned my trust and I was able to notice beautiful things. A nice comment here, a compliment there… A very professional, smart and patient midwifery student, for how intense I can be. Thank you for everything.
Jenny: Thank you for all the information on Spinning Babies. It was very useful. I wasn't able to notify you for my birth since I didn't know that I was in that process. And if I explain myself, it's because when I interacted with you I felt a familiarity like that of friends. That was very special. Also, thanks for coloring with my boy during an appointment. Thanks a lot
To the other midwifery students that I met on different appointments: I don't remember your names, but I do remember your faces and excellent way of treating. You were all born to do this; plus Puerto Rico needs to be filled with good doulas and midwives like you guys. Thanks
Nelly: Thanks to you too for the compliments, conversations, respects, smiles and congratulations. Thanks
Doula Paloma: Thanks for the knowledge imparted in the prenatal classes. Thanks for the cup of coffee. Thanks for your patience. Thank you for being so giving, genuine, passionate and looking after women's rights. Thanks for opening the door for me. Thanks for coming to my rescue, alongside Adriana, and holding in your arms my baby girl so that I could concentrate on my appointment. Thanks for making me and everyone else feel 'in tribe'. Thanks to your daughter for sweetly asking my boy, on one time, why he was crying and inviting him to play. She learned that inclusion from you. And thanks for being concerned, informing through groups and writing me, especially after the earthquakes. Thank you, thank you, thank you
Adriana: You are all peace and love. You always make one feel good and understand any situation. You keep calm, as if by magic, all the babies while the mommies are busy. Your patience is admirable. Thanks for being so sweet to my son. He felt special each time when he entered and you called him handsome. Your energy and personality are perfect to deal and coordinate with mothers, families and pregnant women. Thank you, thank you
Dr Gomez y Yashira: Thanks for being responsible and respectful during all of my process. You valued my decision and looked after my baby's health and mine. Thanks doctor for reaffirming me that my cesarean had no real medical reason and could've been avoided by the hospital. Thanks for recommending trying a vaginal birth. And to your wife and nurse Yashira: thanks also. You always treated my child well and oriented me in case of occurring an emergency. You are a good team. Thank you
Dra. Camil y Dra. Glenda: You are both excellent. Your adjustments brought me closer to my goal. You teach and make one feel as if we were old friends. Also, you accepted that my boy was present during the appointments and it was so relaxing to be adjusted that I fell asleep. Thank you very much
How difficult is knowing that my pregnancy and quarantine ended! And it is because I'm going to miss my midwives a lot. Definitely, some of the best women I have ever met. Their passion, amiability and sincerity characterizes them. I'm still stunned with the excellent, warm and humane treatment. I recommend them to anyone.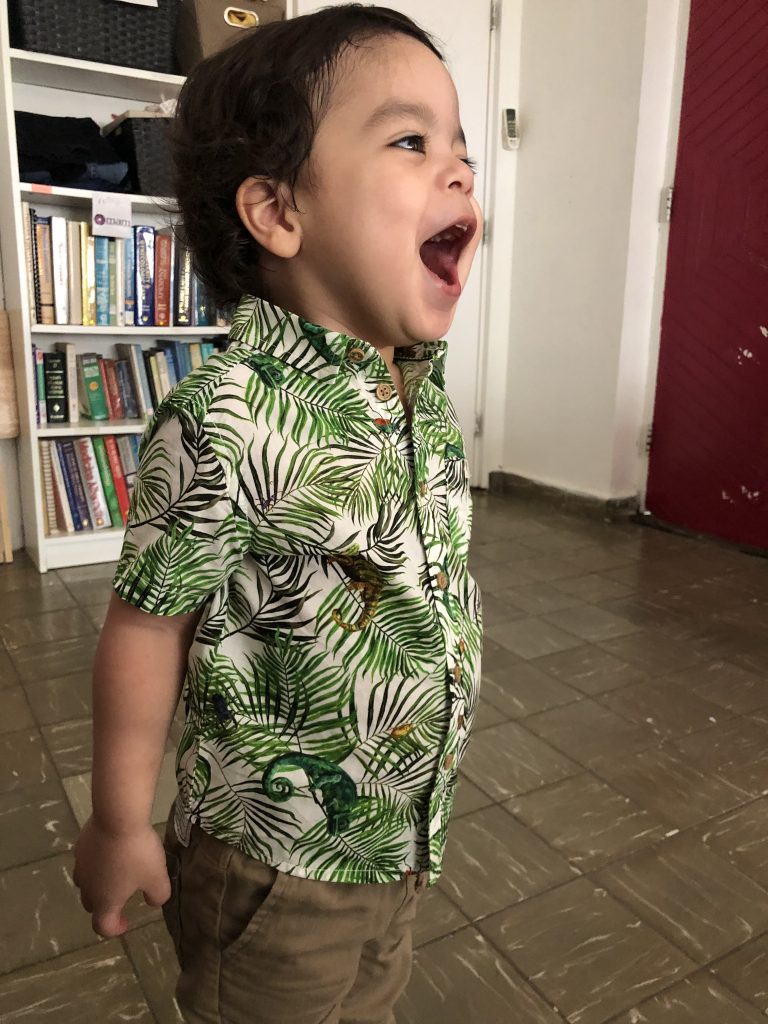 Everyone at home and at the Center felt like friends. All are a beautiful company so necessary to a woman during her maternity. They even dress super cute. Their appearance is a perfect reflection of their gorgeous interior. They are very open and pro family. It fascinated me to be able to include my son in all the process. He throws himself at them with a little too much trust and confidence. He swears he's at his home.
Centro MAM were a transformative tool in my life. They lend me their hand at a very vulnerable moment. They helped me reach one of my biggest dreams. I gave birth vaginally without medication or interventions after a cesarean and a traumatic experience. It wasn't easy, but perfect. My son was present. My husband was an active part of all the process. My daughter was born in peace. I was accompanied. I was empowered. Women should be with one another as they are in the Centro MAM supporting and not putting each other down: a tribe. THANK YOU.
A mis parteras
Visitar al Centro MAM es toda una vivencia. Y todo se debe a la calidad de mujeres que trabajan para esta entidad. Aclaro que esta no es mi historia de parto. Esto es mi pequeño gracias a quienes estaré eternamente agradecida: a mis parteras.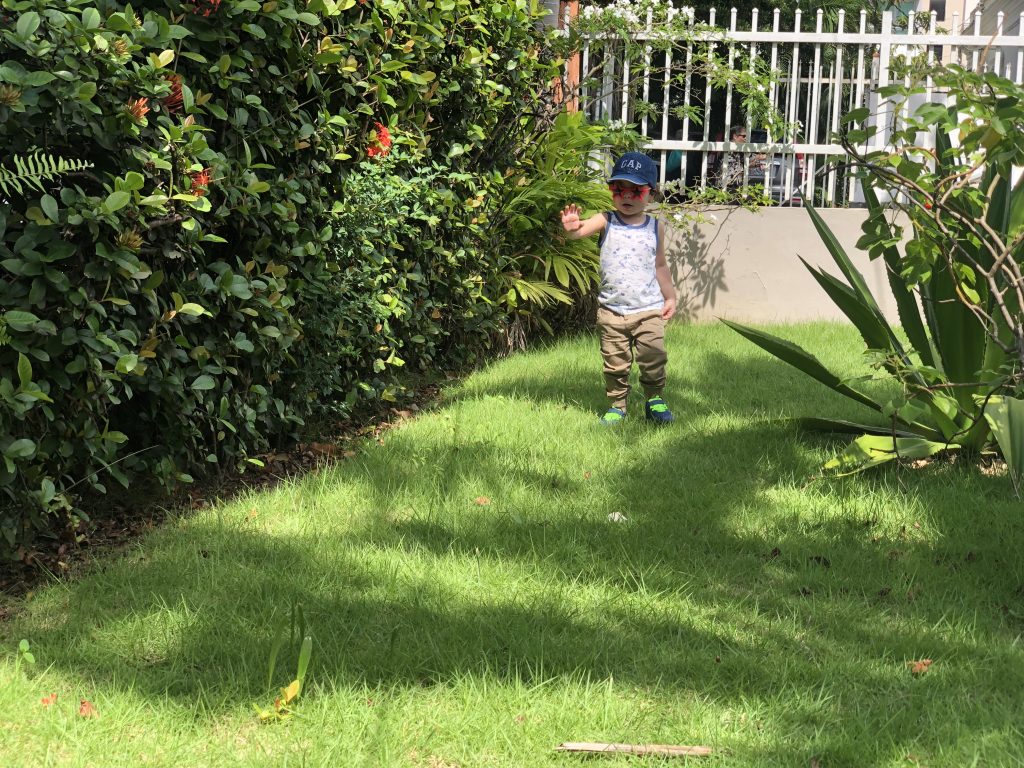 Tocas el timbre y te abren sin saber quién lo hizo. Y entras por un jardín que se asemeja, a mi entender, al de alguna excelente abuelita que solía tener jardines encantados. Sigues dando pasos hasta llegar a la puerta, la cual casi siempre te abre algún ser especial. Y te encuentras con la recepción más acogedora. Parece ser una sala familiar muy profesional, en el mejor sentido. Mas la clave en este espacio lo es Adriana, la mujer a quien me dirigiré más adelante. Entonces, te sientas allí sin entender este universo paralelo y fantástico al que has entrado, que parece ser una utopía. Y comienza la pasarela de energías preciosas desconocidas.
En mi primera cita, conocí a Vanessa. Una muy buena estudiante de partería se encontraba con ella. Fue un momento lleno de nervios para mi. Siempre estuve muy segura de querer estar embarazada una segunda vez, conciente de que esta decisión no se me haría fácil en muchos aspectos.
El ambiente era muy ameno, cómodo. Se supone que yo hablara. Me encontraba callada. Era sumamente extraño ser escuchada tanto en una cita de embarazo. Vanessa fue muy profesional y me aclaró que lograr el parto en mi hogar podría que pasara y podría que no. Mi esposo y yo fuimos orientados, mientras nuestro hijo de dos años exploraba la habitación. Comencé a aprender que hay un sin número de situaciones que se pueden presentar al momento de parir, que cada parto, criatura y mujer son un mundo. Tenía que estar preparada para cualquier posibilidad, soltar, confiar, estar positiva y disfrutar. Recuerdo que mencionó el sanar y pensar que mi primer traumante parto quizás tuvo un propósito. Aclaro que todas estas mujeres han pasado por todo tipo de experiencia y su conocimiento va desde lo personal, académico, médico, espiritual y profesional. Saben lo que dicen y hacen.
Vanessa: Estoy muy conciente de mis caras y gestos mientras nos reuníamos esa primera cita. Eres muy líder y segura de ti misma. Yo estaba traumada con hormonas a mil, primer trimestre en todo su apogeo. No entendía, en ese momento, la mitad de las cosas. Gracias por hablar con franqueza en las citas. Gracias por el mangó para mi y para mi niño. Tu energía es muy necesaria. Gracias, gracias, gracias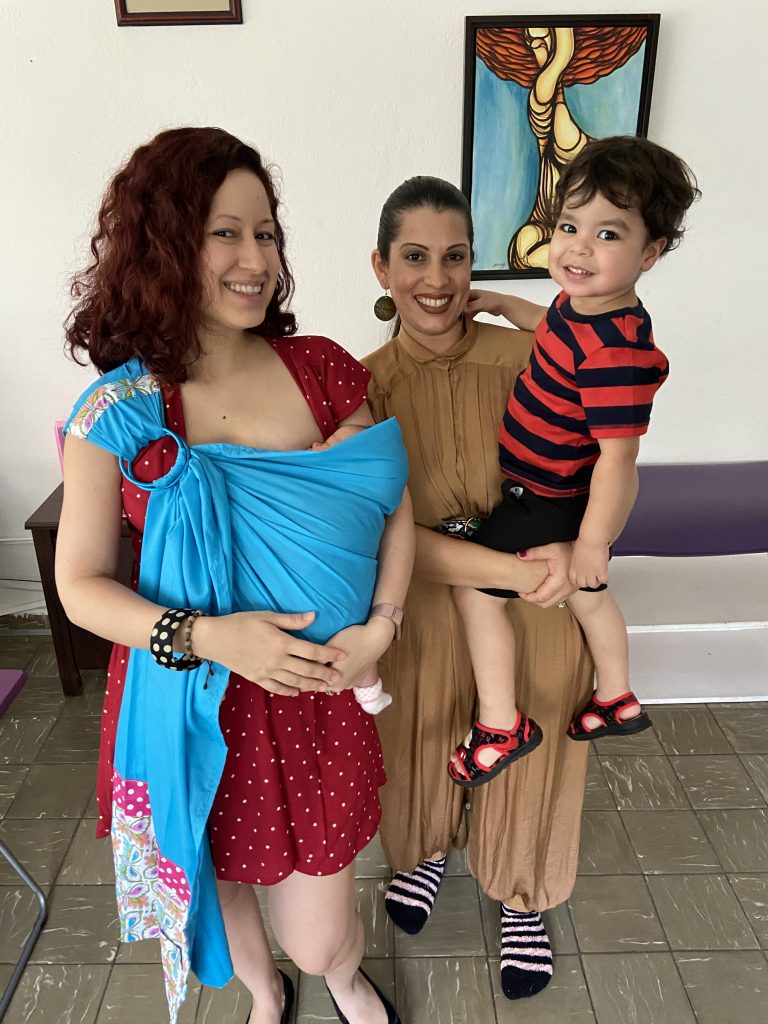 Yarilís: Fuiste de las primeras que conocí. No fue fácil ese momento. Lo facilitaste. Me hiciste sentir bien, normal, validada. Permitiste y entendiste, sin problema alguno, que tenía que ser yo la que introdujera el aparato para mi primer sonograma transvaginal. Me confirmaste, junto al doctor, que el corazón de mi hija latía y su sexo. Tu hija, un día, abrazó a mi hijo. Esa calidez la aprendió de su madre. Mi nene se alegró y sintió que tenía una amiga. Gracias por no juzgar mis bajones de azúcar y lo mucho que nos pegamos el vellón mi esposo y yo. Te reías con nosotros. Nos hiciste sentir en confianza. Me aclaraste mucho desde un punto de visto médico y de amistad. Gracias por ir a casa hasta enferma para atenderme sin saber que estaba de parto. Gracias por los masajes y entender mi actitud. Tuviste tacto, fuiste profesional, fuerte, sincera y amorosa, muy necesaria. Gracias por cargar a mi nene en la cita postparto. Gracias, gracias, gracias
Rebecca: No creo que te recuerdes de mi, mas yo sí de ti. Te conocí antes de estar embarazada en una cita con el ginecólogo. Terminé yendo al Centro MAM para un chequeo más rutinario ya que era temporada navideña y en ningún otro lugar me daban cita. Te recuerdo porque me hiciste sentir segura. Ir a un ginecólogo me traumaba después de pasar por la violencia del primer parto. Sin ti allí, hubiese salido corriendo. Me ayudaste sin saberlo. Recuerdo cuando dijiste que eras partera del Centro. Fuiste la primera partera que conocí en mi vida. Rápido te confesé que buscaba otr@ hij@. Tu respuesta fue muy positiva, hasta joven me dijiste. Salí segura y tranquila. Podría quedar embarazada y sería mejor porque iría a ser atendida por el Centro MAM. Fue gracias a ti. Luego me atendiste ya preñá'. Me bajaste un ataque de ansiedad, me elogiaste y me ayudaste, junto a Yarilís, a bajar de la camilla y limpiarme el gel de la panza. Mil gracias
Michelle: Fuiste la última partera que conocí. Sin embargo, ya habíamos textiado y hablado por teléfono celular. Sin conocerte, ya me encontraba demasiado agradecida de ti. Te sentía genuinamente preocupada, interesada en que me fuese bien a mi bebé y a mí. No me conocías y eso no importaba. Cualquier duda, susto y/o miedo, lo disipabas. Cuando te conocí, le pude poner una cara a la voz. Me puse nerviosa en aquel momento. Tuve que aprender a confiar y soltar. Y, ¡qué hermosa relación creaste! Me ganaste rápido. Te convertiste casi en psicóloga con tus consejos. Fuiste tan clave. Verte era un bálsamo de paz. Fue un regalo y agradable sorpresa tenerte a ti y a Yarilís en mi parto. ¡Qué afortunada fui! Me hicieron sentir segura. Me elogiaste, ayudaste y centraste. Necesitaba tu hermosa energía. Tus visitas postparto a casa, me llenaban de alegría. Todavía mi niño menciona, mientras me da instrucciones, que juegue con el dinero de la caja registradora como hizo la partera Michelle. Por mi, te hacía un cuarto en casa. Gracias, gracias, gracias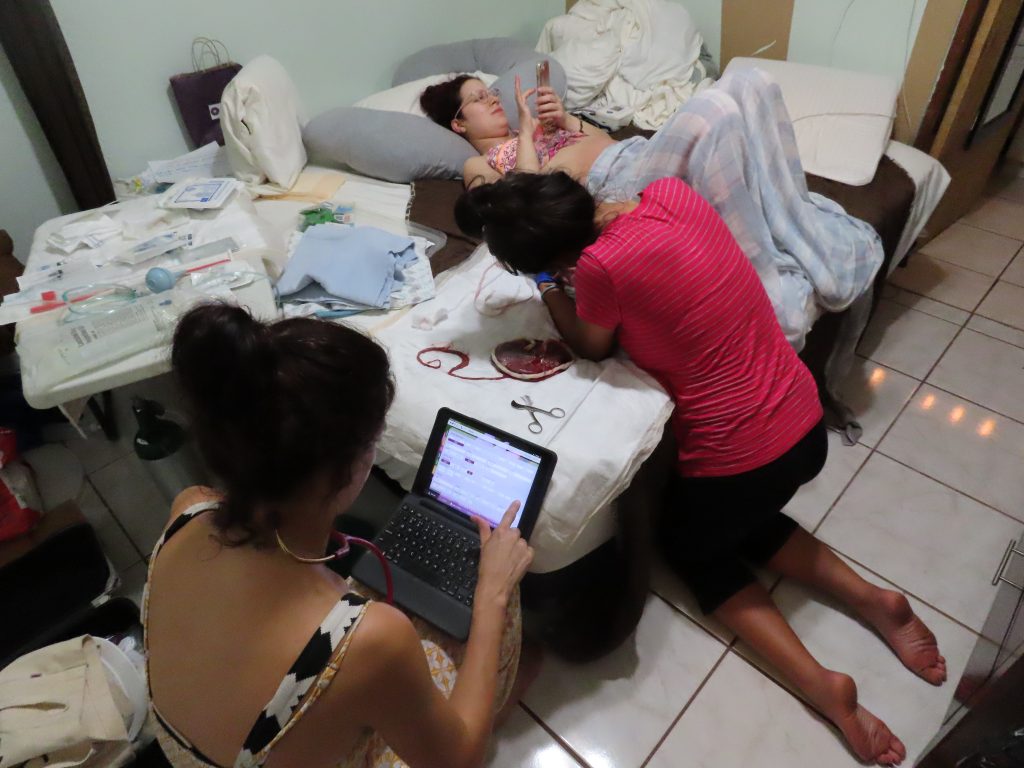 Daphne: Pasaste de ser la estudiante de partería que menos conocía a hacerme sentir que eras como una amiga. Durante mi parto, no parecías ser sólo una estudiante. Fuiste muy atenta, amorosa, cuidadosa y profesional. Me entendías y respetabas. Tu energía también era necesaria. Tus manos fueron las primeras en tocar a mi niña. Gracias, gracias, gracias
Jessica: Siempre me atendiste con suma amabilidad. Poco a poco, te ganaste mi confianza y pude notar cosas bellas. Un comentario bonito por aquí, un piropo por allá… Una estudiante de partería muy profesional, inteligente y paciente para lo intensa que soy. Gracias por todo.
Jenny: Gracias por toda la información sobre Spinning Babies. Me fue muy útil. No te pude avisar para mi parto ya que ni sabía que estaba en ese proceso. Y si me explico, es porque al interactuar contigo sentí una familiaridad como la de amigas. Eso fue bien especial. También, gracias por pintar con mi niño durante una cita. Muchas gracias
A las otras estudiantes de partería que conocí en diferentes citas: No me acuerdo de sus nombres, pero sí de sus caras y excelente manera de tratar. Todas nacieron para esto; además Puerto Rico necesita llenarse de doulas y parteras buenas como ustedes. Gracias
Nelly: Gracias a ti también por los piropos, conversaciones, saludos, sonrisas y felicitaciones. Gracias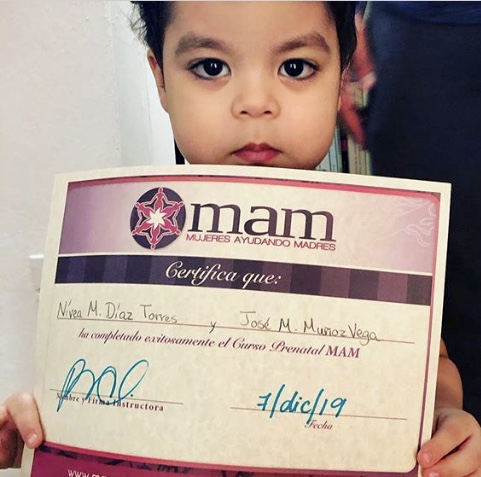 Doula Paloma: Gracias por el conocimiento impartido en las clases prenatales. Gracias por la taza de café. Gracias por tu paciencia. Gracias por ser tan entregada, genuina, apasionada y velar por los derechos de las mujeres. Gracias por abrirme la puerta. Gracias por socorrerme, junto a Adriana, y coger a mi beba para que yo pudiera concentrarme en mi cita. Gracias por hacer sentir a uno en tribu. Gracias a tu hija por preguntarle tiernamente a mi niño, en una ocasión, por qué lloraba e invitarlo a jugar. Aprendió esa inclusión de ti. Y gracias por preocuparte, informarme a través de grupos y escribirme, sobretodo después de los terremotos. Gracias, gracias, gracias
Adriana: Eres toda paz y amor. Siempre haces sentir bien y entiendes cualquier situación. Mantienes calmados, como por arte de magia, a tod@s l@s bebés mientras las mamitas están ocupadas. Tu paciencia es admirable. Gracias por ser tan dulce con mi hijo. Él se sentía especial cada vez que al entrar le decías guapo. Tu energía y personalidad son perfectas para tratar y coordinar con madres, familias y embarazadas. Gracias, mil gracias
Dr. Gomez y Yashira: Gracias por ser responsables y respetuosos durante todo mi proceso. Valoraron mi decisión y velaron por la salud de mi bebé y la mía. Gracias doctor por reafirmar que mi cesárea no tuvo razón médica real y pudo haber sido evitada por el hospital. Gracias por recomendar intentar parir vaginal. Y a su esposa y enfermera Yashira: gracias también. Siempre trataste bien a mi niño y me orientabas en caso de ocurrir una emergencia. Son un buen equipo. Gracias mil
Dra. Camil y Dra. Glenda: Ambas son excelentes. Sus ajustes me acercaban más a mi objetivo. Enseñan y hacen sentir a uno como si fuéramos viejas amigas. Además, aceptaban que mi niño estuviera presente durante las citas y era tan relajante ser ajustada que hasta me dormía. Muchas gracias
¡Qué difícil es saber que se acabó mi embarazo y cuarentena! Y es que voy a extrañar demasiado a mis parteras. Definitivamente, de las mejores mujeres que he conocido. Su pasión, amabilidad y sinceridad las caracteriza. Sigo pasmada con el excelente, cálido y humano trato. Se las recomiendo a cualquiera.
Todas en casa y en el Centro se sintieron como tener amigas. Todas son una hermosa compañía tan necesaria para una mujer en su maternidad. Y hasta visten super lindo. Su aspecto es un perfecto reflejo de su hermoso interior. Son bien abiert@s y pro familia. Me fascinó poder incluir a mi hijo en todo el proceso. Él se tira encima de ellas con demasiada confianza. Jura que está en su casa.
Centro MAM fueron una herramienta transformadora en mi vida. Me dieron la mano en un momento tan vulnerable. Me ayudaron a cumplir uno de mis mayores sueños. Parí vaginal sin medicamentos ni intervención médica después de una cesárea y una experiencia traumática. No fue fácil, pero perfecto. Mi hijo estaba presente. Mi esposo fue parte activa de todo el proceso. Mi niña nació en paz. Estuve acompañada. Fui empoderada. Las mujeres deben ser unas con otras como lo son en el Centro MAM apoyándose, no tirándose: una tribu. GRACIAS.