Why I prefer that my husband changes the poopie diapers?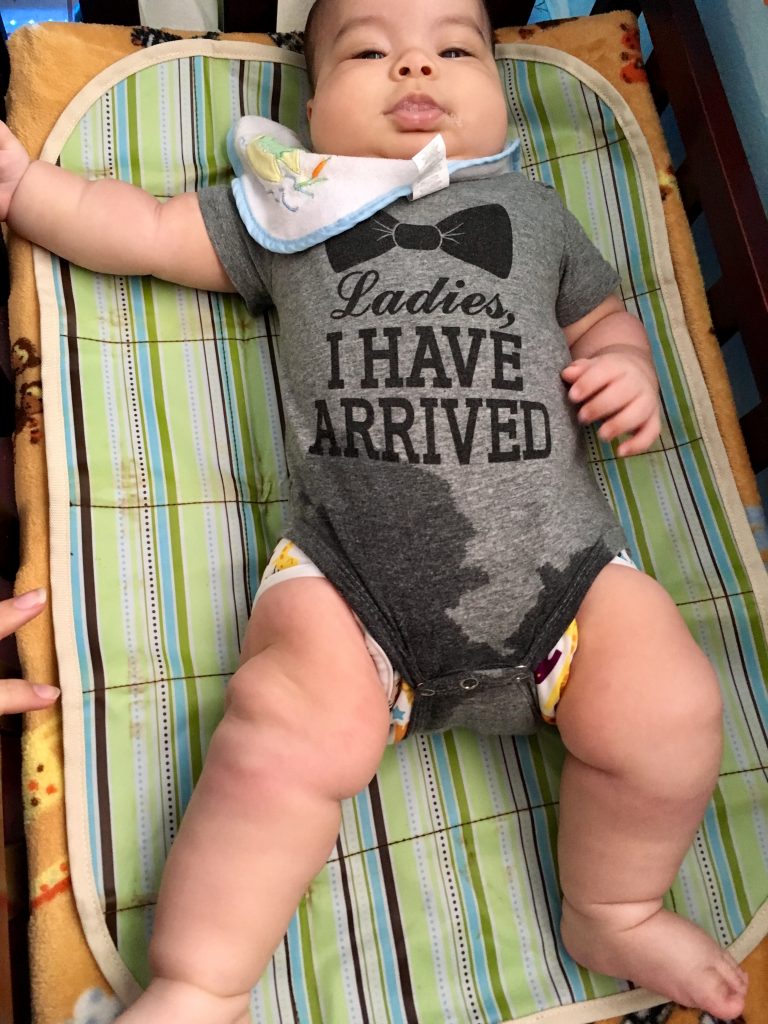 Did I just grabbed the…? No, that was the wipe. Ok, yes. I have poop in my hand again. And now, I have to cook. Oh God, ew! Why does this always happen to me? So very tragic, I know. Why couldn't he wait to go when my husband arrived home? Well, because he's a baby, that's why. Anybody knowing I felt this way would think that I'm lazy. When in reality, I am just very frustrated and annoyed with dirty hands. On the other hand… "Stop dancing while I'm cleaning you Dariel!"
Before anyone reading this thinks that I'm 'inexperta', let me give you some references. I am the older female cousin out of eight. My grandmother raised most of us and trusted me a lot. She relied on me and gave me tasks that have really come in handy. One of those were: helping with diapers that needed changing or just wiping pooped behinds. I felt pretty confident I was going to ace this part in motherhood. I thought that I would be the expert and teach my husband, someone who had never done it before. Boy, no pun intended, was I wrong!
I don't know if it started after my bad birth experience with my perfect baby boy. I know it hurt to see my husband needing my help to put on a diaper and I wasn't even able to sit, let alone go over and give him a hand. I was awake suffering with him and giving instructions he was asking for. Sometimes, a nurse helped. Everyone could do something I longed for, except for me, the mom. Those were the cards that I was dealt with. I remember telling him to be careful cause Dariel, (our newborn at that time), was about to pee. He, eventually, got it and mastered in it. A little time later, I was sent home. Still, I couldn't change, bathe, nor dress him. All that hurt more than the physical aspect of my body aches. Plus, I didn't know much about postpartum hormones. It was a lot. If it hadn't been for the miracle of breastfeeding him, I would've had a worst recovery, mentally.
Eventually, my husband went back to work. I was so scared. Getting up was still hard and I though I just wouldn't be able to care for my baby. Little did I know, this was exactly what I needed. It took time, a lot of it. But being his only option for everything: lifted, empowered and healed me, slowly. I also had decided to use cloth diapers. We had bought the basics to be able to do it. I couldn't. He did. This hurt. I still ask him, sometimes, about the washing procedure of the diapers, which doesn't make much sense since I originally did the research. And I tend more to take care of the dirty laundry. At some point, I finally got the hang of cloth diapering. It was different from disposables. Surprisingly, it isn't difficult either.
At the present, my son is two years old. I still struggle when wiping him. I really try my hardest to make sure he's perfectly clean. And he is. The problem is I end up dirty. In addition, cleaning poop while pregnant is another challenge by itself. Candles help a bit, if they are the right aroma. One of the times that I told my husband that it happened again, he reminded me of something I completely forgot about. When I used to clean my dogs poop, (I stopped doing this during pregnancy), I also got it in my hands. Eww! Maybe there's a pattern or I need humongous wipes.
Honestly, I don't mind the mess and the stink. It just doesn't makes sense that I still get it on my hands. So yes, I prefer that my husband changes the poopie diapers. My reason is valid and it doesn't hurt my ability of being a good mom. Daily, a pooped diaper is for mamma and another for daddy, my son already knows this rule. With me, he sits on the toilet more. I prefer potty training. Just don't misinterpret this. I practice a more natural approach. He is still a baby and my pediatrician urges to stop rushing babies to go to the bathroom. I ask my boy, he tells me, we go. After, I love my little routine where we wash our hands, face and brush our teeth together. I'm hoping for a better all around experience this second time. Hopefully, this helps me at not getting my hands pooped. However, if by any chance I don't improve, then it's definitely for me: justamami thing.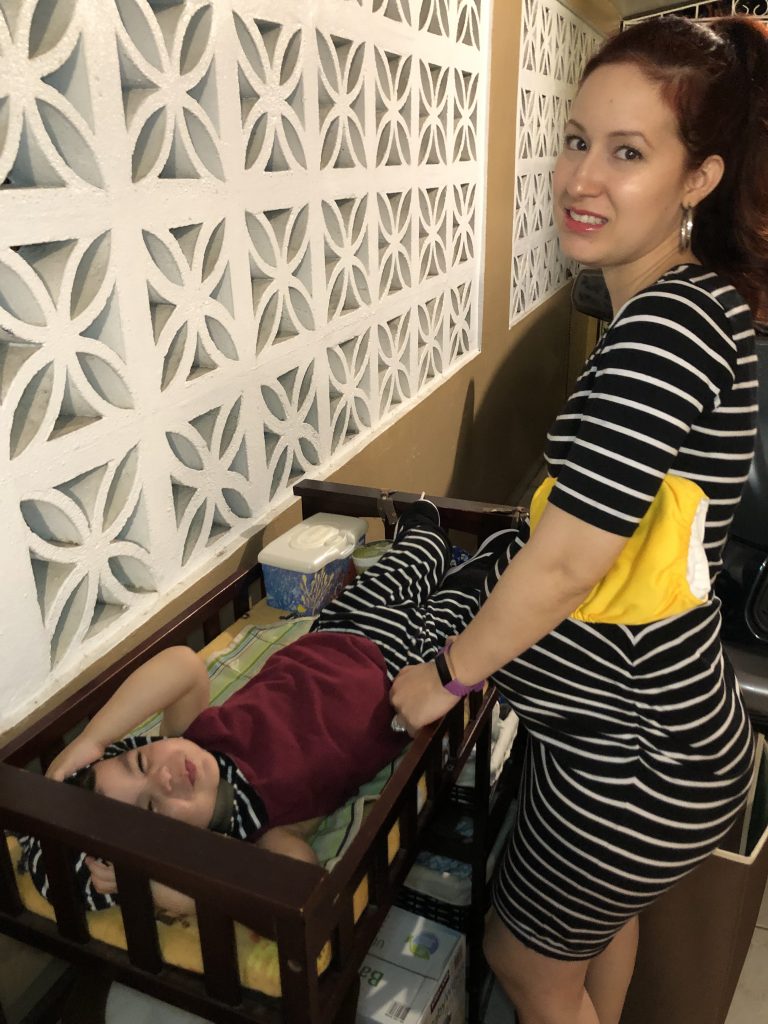 SPANISH VERSION:
¿Por qué prefiero que mi esposo cambie los pañales cagados?
¿Acabo de agarrar la…? No, eso fue el pañito. Ok, sí. Tengo caca en mi mano otra vez. Y ahora, tengo que cocinar. Ay Dios, ¡fó! ¿Por qué esto siempre me pasa a mi? Muy trágica, lo sé. ¿Por qué no pudo esperar a ir cuando mi esposo llegara? Bueno, porque es un bebé, por eso. Cualquiera que supiera que me siento así pensaría que soy vaga. Cuando en realidad, estoy muy frustrada e irritada con las manos sucias. Por otra parte…¡Deja de bailar mientras te limpio Dariel!
Antes de que alguien leyendo esto piense que soy 'inexperinced', déjenme darles unas referencias. Soy la primamayor de ocho. Mi abuela nos crió a casi todos y confiaba mucho en mi. Ella contaba conmigo y me daba tareas que realmente han sido útiles. Una de esas fue: ayudando con pañales que necesitaban cambio o simplemente limpiando traseros cagados. Me sentía muy confiada de que sería excelente en esta parte de la maternidad. Pensaba que iba a ser la experta y enseñarle a mi esposo, alguien que nunca antes lo había hecho. ¡Cuánto me equivoqué!
Desconozco si comenzó después de mi mala experiencia de parto con mi perfecto bebo. Sé que dolió ver a mi esposo necesitando mi ayuda para poner un pañal y yo ni podía sentarme, muchísimo menos ir a donde él y tenderle una mano. Estaba despierta sufriendo con él y dándole instrucciones que tanto me pedía. A veces, una enfermera ayudaba. Todos lograban hacer algo que anhelaba, menos yo, la madre. Esas fueron las cartas que me tocaron. Recuerdo decirle que tuviera cuidado porque Dariel, (nuestro recién nacido en ese momento), estaba a punto de mear. Él, eventualmente, lo captó y lo dominó. Un tiempito después, fui mandada a casa. Todavía no podía cambiarlo, bañarlo ni vestirlo. Todo eso dolía más que el aspecto físico de mis dolores. Además, no sabía mucho sobre hormonas posparto. Fue un montón. Si no hubiera sido por el milagro de amamantarlo, habría tenido, mentalmente, una peor recuperación.
Eventualmente, mi esposo regresó a su trabajo. Tenía tanto miedo. Pararme era aún difícil y pensaba que no sería capaz de cuidar a mi bebé. Lo que no me imaginaba, ésto era exactamente lo que necesitaba. Tomó tiempo, muchísimo. Pero ser su única opción para todo: me levantó, empoderó y sanó, lentamente. También había decidido utilizar pañales de tela. Habíamos comprado lo básico para ser capaces de hacerlo. Yo no pude. Él sí. Esto dolió. Todavía le pregunto, en ocasiones, sobre el procedimiento de lavado de los pañales, lo cual no hace mucho sentido ya que fui yo quien originalmente hice la investigación. Y tiendo a ser yo quien se encarga de la ropa sucia. En cierto punto, le cogí el truco a pañalear. Era diferente a los desechables. Sorprendentemente, tampoco es tan difícil.
En la actualidad, mi hijo tiene dos años. Sigo con dificultades cuando lo cambio. De verdad, trato lo más que puedo de asegurarme que esté perfectamente limpio. Y lo está. El problema es que termino sucia. Para añadir, limpiar caca embarazada es otro reto por sí sólo. Las velas ayudan un poco, si tienen el aroma correcto. Una de las ocasiones que le conté a mi esposo que me pasó otra vez, me recordó de algo que había olvidado completamente. Cuando solía limpiar las cacas de mis perros, (dejé de hacer esto durante el embarazo), también se me quedaba en las manos. ¡Fó! Quizás hay un patrón o necesito enormes pañitos.
Honestamente, no me molesta el reguero y la peste. Sencillamente, no tiene sentido que aún me embarro las manos. Pues sí, prefiero que mi esposo cambie los pañales cagados. Mi razón es válida y no afecta mi hablidad de ser una buena madre. Diariamente, un pañal cagado es para mami y otro para papi, mi hijo ya sabe esta regla. Conmigo, se sienta en el innodoro más. Prefiero el entrenamiento para ir al baño. Sólo que no malinterpretes esto. Practico un acercamiento más natural. Él sigue siendo un bebito y mi pediatra urge a parar el apresurar a los bebés a ir al baño. Yo le pregunto a mi niño, él me avisa y vamos. Luego, amo nuestra pequeña rutina donde nos lavamos las manos, la cara y nos lavamos los dientes juntos. Espero tener una mejor experiencia por completo esta segunda vez. Ojalá, esto me ayude a no cagarme las manos. De todos modos, si por alguna razón no mejoro, entonces es definitivamente para mi un asunto de: justamami.