Rebirth: home birth with midwives
1cm: Nesting Syndrome, feels like insanity.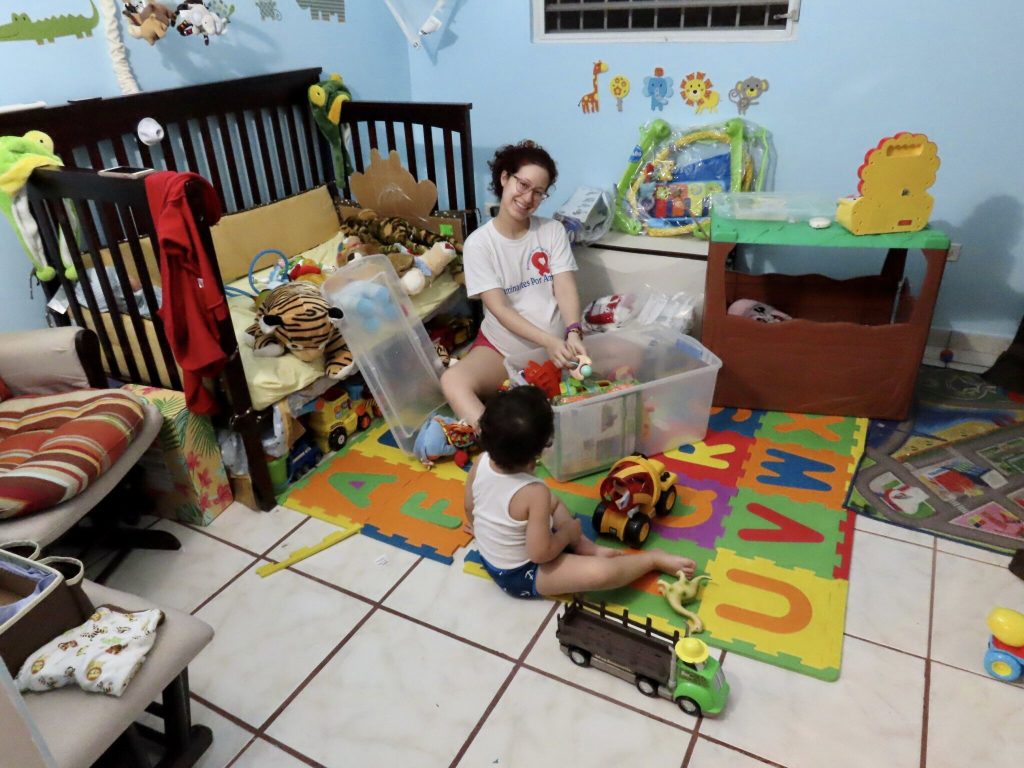 I was starting labor for two days and I didn't know. I dilated at home while I tidied up reluctlantly. I was so tired of doing things to prepare the house. My instinct was now to relax and rest. At the same time, I had to keep helping with chores. I knew that I wouldn't be able to do much later. And opposed to my better judgement, I started to wash everything that was 'left'. I didn't want my husband to have to do it later. And my ache continued. I wrote and washed.
I remember that I went to sleep. The sun was up, but I forced myself to rest. I repeated to myself almost every night: "If you go into labor in a few hours, you need rest." This was without having the slightest idea of what giving birth would mean. Later, I ignored my fears and my anxiety spoke to me: "Can you imagine if you're in labor right now and you don't know?" Almost every night of December was like that. It almost seemed like I was never going to give birth or that I would've to send home a surprise visit. Excited, hopeful, trauma, fear, anxiety, nesting syndrome to a thousand and later peace. This time, I was sooo sure of not wanting to go into a hospital during birth or postpartum, as sure as I was of not wanting to give formula and wanting to breastfeed my first baby. I had always wanted to give birth in the peace and privacy of my home, but I didn't dare. I didn't know it was so accesible, possible, real. It would be natural. That's how I wanted it. It's my preference.
Next I went to rest, just in case. My house was perfect, but for some reason I felt like washing a few extra things. I had a bad feeling about that load of laundry. I didn't leave anything unfinished. There was even lasagna in the freezer for the birth. And there it stayed, the clean load of laundry for months, because I was already in labor. It seems, the natural thing is to end it with a bang (the pregnancy) or fuck it up somewhere to start a good birth story.
2cm: Ballet. Health. Contractions during the whole pregnancy, something normal until the day arrived. And I didn't have to share my decision of home birthing.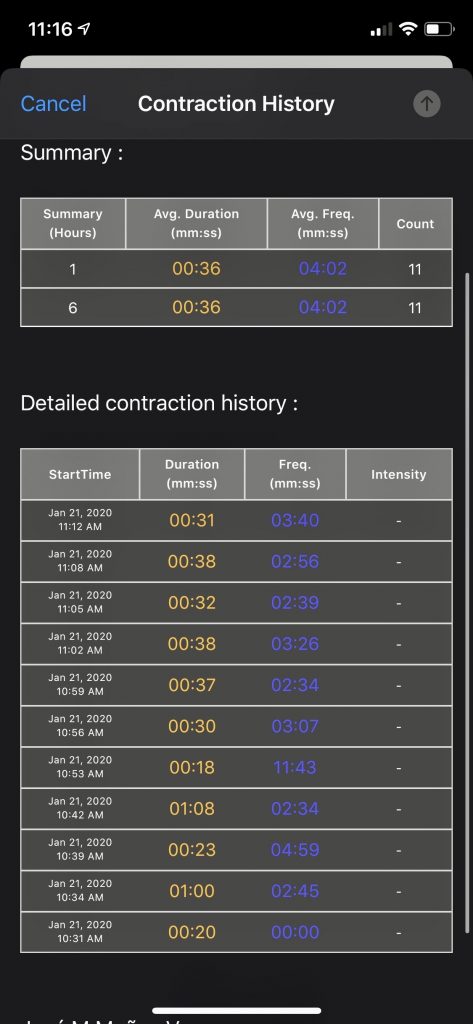 The thing was that I felt contractions during my whole pregnancy. It's normal the second time around and, even more so, when breastfeeding. This did not meant that I was in labor, bleeding or dilating. I continued going to the gym, practiced ballet with the teacher very vigil and without jumps (my decision). I also walked a great deal. I'm a person that can put up with a lot of physical pain, although it may not seem like it to many. Also I had the green light from my midwives and even the ginecologist from Centro MAM. I asked and asked them if I could continue. Their answer was always the same: "Why not? Everything is in health." They reminded me to listen to my body. They encouraged me very much to keep being myself. My pregnancy was never a high risk one. The first and last trimesters were the hardest. Normal.
And then came that last trimester. I spoke to the ballet teacher and I told her that I was going to dance until December (I gave birth on January). The midwives kept telling me that I could continue and I'm grateful to them. But that was my decision. I almost wasn't able to dance anymore and a difficult month was coming. Mi firstborn's birthday is on December, Christmas, decorating, gifts, Three Magic Kings and family gatherings. I needed extra time to breathe, prepare mentally, empower myself and prepare everythiiing. I seemed crazy. The contractions got to a thousand, but they stopped when I rested. My husband was scared. My midwives were excited and talking to my baby to continue to stay inside me until after week 36. All to achieve my goal of having a birth like I dreamed: at home. And Christmas passed. Phew!
Now starts my desperation. You have to understand that this was something I worked for even at the gym. I strenghtened my body and mind screamed VBAC. I only ate super healthy and thought about achieving it. I prepared my daughter's home without being pregnant. We were going to wait three months because I read that it was ideal… We waited two. In the first trimester, I had more implantation bleeding than in my first pregnancy. I stopped ballet for a month, the nausea was unbearable and I rested until they did the vaginal sonogram that I asked for in Centro MAM. I wasn't even traumatized, they allowed me to introduce it and they gave me privacy. All good. False alarm. Healthy pregnancy.
It is in the second trimester that I could get up due to nausea and be normal. I returned to everything. And I never answered about my birth. I didn't have to. I went out a lot, but I was not interested in speaking about my decision. It appeared to be a big secret. The inquisition would've harm me.
My midwives knew everything and much more. They were everything and much more. I miss them daily. My son misses them. I have them present daily. They changed my life.
I only told a few close people. They had instructions to keep quiet. I explained that it was not an easy thing for me. They knew it was my decision. They supported me. They got scared. They got excited.
In the last month, sleeping on the right side did nothing. I kept feeling a pain like cramps and I woke up. I spent days with diarrhea. Everything by the book. But I did not knew that book yet. I'm a type of person that when I go through things I'm not very present. I suffer from anxiety and I have my defense mechanisms that allow me to be. This only happens when it comes to me. For everyone else I'm alert, awake, conscious. Then, my mind does a recount of everything. And this part of the experience was comedy.
I went to the bathroom (between 9:50-10:00am) and I call my husband. I am very careful about it because my boy was sleeping and waking him up would be crazy. I never invite anyone to accompany me to the toilet. Quite the contrary. I explained to him that the ache did not go away nor I could defecate. We called the midwife on shift and she wants to talk with me. I neither can nor want. And I love them! My husband becomes the messenger. Then, she asks me on the phone to respond with a yes if I wanted her to come to my house. Me: "Yes, but I just have to go to the bathroom." (11:32am) With applications that were saying that my contractions were regular and even a small bleeding, I was in denial. It was like being in labor for the first time.
3cm: Yarilís arrives. Active labor, more than 6cm.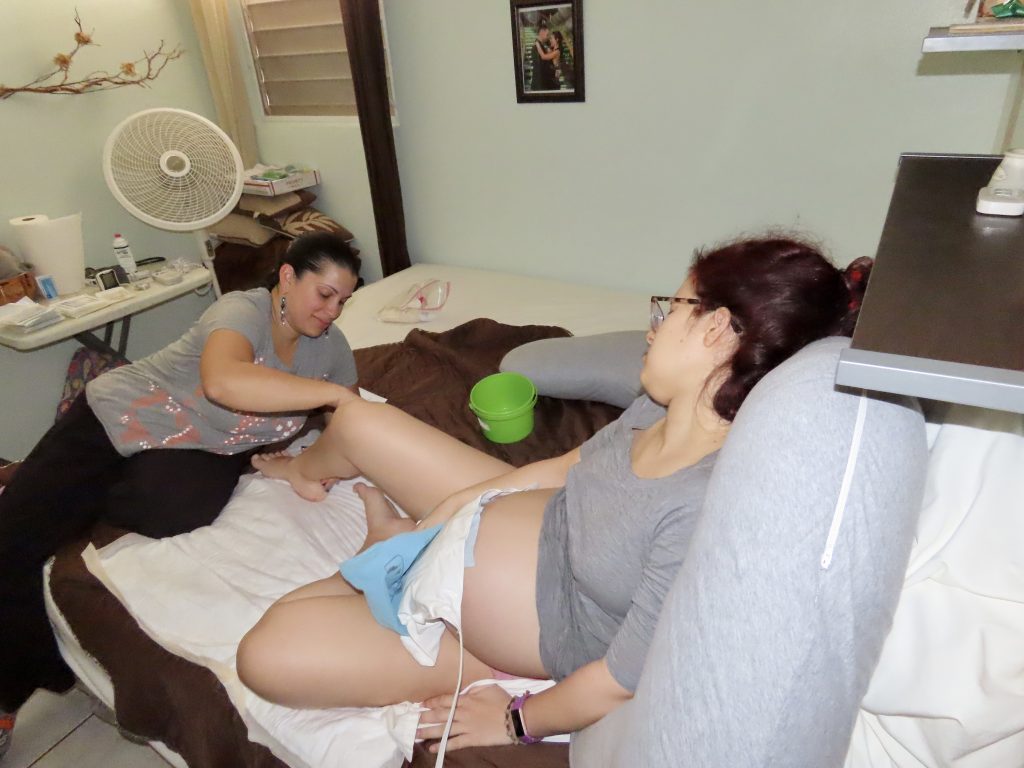 Yarilís arrives at my house (it was between 12:30-1:00pm) and she asks me if I wanted her to check me. I answered her a very sure yes. I was hardly speaking, hated to move and what I wanted was to be able to go to the bathroom to feel better. I was surprising myself with my trust towards her checkup. It was kind of expected. The nine months a beautiful relationship was created with all of them. They listened to me, advised me, took care of me. And Yarilís says surprised and happy: "Nívea, we are in labor. 6-7 centimeters". Oh ok, it makes sense, I answered in another contraction.
Yarilís thought that she was only going to put IV in me because of so many days with diarrhea. She had to start to bring out of her car all of her equipment. She had a suitcase, birth chair. It seems like she kept pulling out things out of a magician's hat. And my contractions were more intense. Then Yarilís asks my husband if we had an electric heating pad to help ease my pain a bit. This was intense without a break. My loving husband didn't even remember. Between the pain I told him we had one. This was my first relief.
I was still surprised of being in labor. I really did not understand anything. I was so scared because of my first violent birth. I didn't let my mind to flow. I didn't feel capable. My body hadn't been through this birthing experience. My body and my mind were disconnected.
While I was still lying almost immobilized from the pain in my bed, Yarilís smiling was giving me massages on my legs. Again, I usually don't let anybody touch me, much less in these types of situations. I trusted her. At the same time, I felt that I didn't deserve those massages.
During my last months I learned that I could chose the midwife I wanted. I wasn't able to. I first felt like I connected with one and then with another. I got sad like an upset baby when one of them graduated or was the end of their shift. Hence, when I heard that Michelle was coming I breathed better. I needed them both.
4cm: Michelle and Daphne arrived. The birthing pool.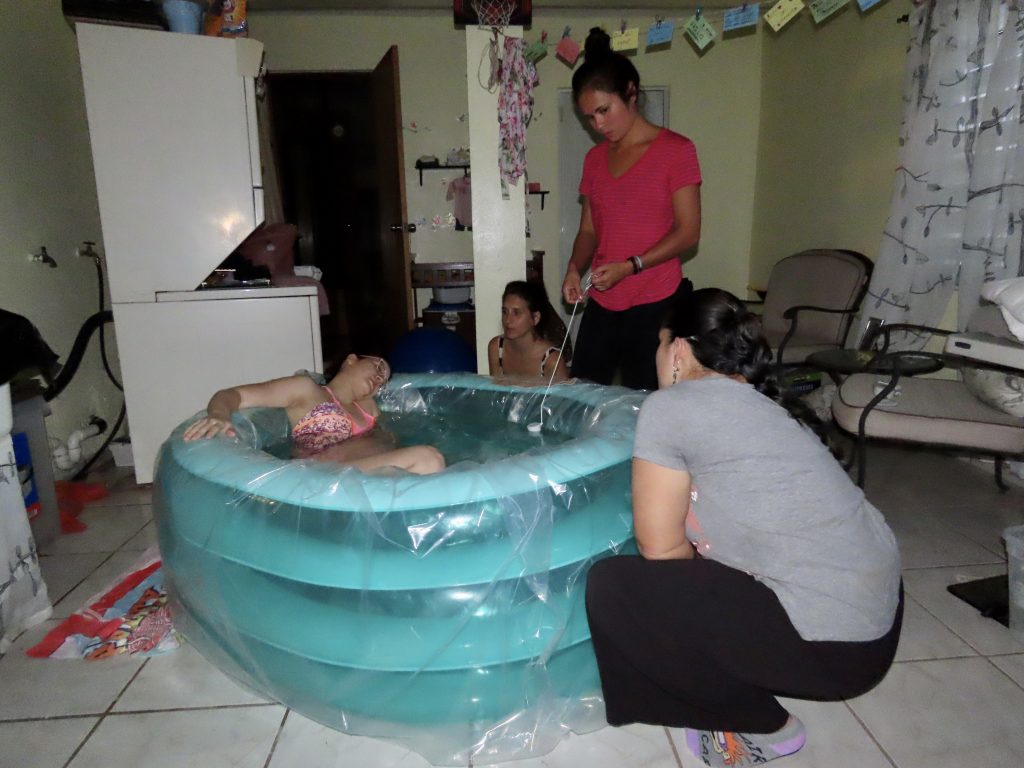 At a certain moment, Michelle and Daphne arrived. Quickly Michelle helped me breathe. I breathed. I was beginning to understand that correct breaths kept my daughter with healthy heartbeats. Another contraction arrived and I forgot to breathe. My mind was terrified of the possibility of going to the hospital and not being able to achieve my birth, again. I hyperventilated. I almost didn't breathe. Michelle was who connected me, who grounded me. It seemed like she came so that I could breathe. How good that they were there! They were so much. They were everything.
My sister in law was with her godson, my son. I could concentrate and forget. This was too difficult. I did not know how to manage it. Yarilís, Michelle and Daphne, along with my husband, prepared everything. I kept on hyperventilating and not knowing what to do. The pain was intense. The contractions were constant. There was no breathing space. To move, not move, to lay down, it all hurt. I felt incapable and ashamed of feeling this way. And they tell me that whenever I could: go to the terrace. They had prepared a pool. And I went.
Upon reaching the terrace, before entering the pool, Yarilís let me know that it was without panty. I thought: Do I still have it on? And I took it off making fun of myself mentally. They let me keep a top on. They did not touch me. They kept an eye on me, watched me. They asked me. They let me be. They listened constantly to my baby's heartbeat. That increased/created my contractions. I know I looked wrong at the poor Daphne. She was too patient.
I was in the birthing pool, the recommended time: 2-3 hours. I had taken the wristwatch off and was without my cellphone. I wanted and needed to be 100% present. I told Michelle that I felt like pushing and I accidentally had done it. She said very good. I continued without understanding how everything could be okay. I had gone from an obstetric violence to the most natural and humane thing that I had experimented in my life.
I remember Yarilís 'making me' eat. I remember Michelle bringing me a banana which I refused. Yarilís made me sip a smoothie. I don't eat when I'm nauseous. Yarilís told me that the worst thing that could happen was that I vomited. They reminded me that I needed strength to push. A little bit of 'forced' smoothie was what I ate. I didn't know that I was so stubborn hahaha.
I had to get out of the pool. I didn't want to. That warm water was an oasis and a little relief, a breath. I would not give birth there. That was for sure, I thought. I had been there for more than three hours. If it had been for me, I would have had a sleepover in that pool.
5cm: Movements, Positions, Birthing chair, Mucous plug, Bed, Toilet.
After being helped to get out of the water, I did a lot of positions to advance. The truth, they almost forced me very lovingly. I didn't want to move because of the pain. It was intense. It scared me. It surprised me. And I squatted on the edge of the bed. Then, to the birth chair I went. That one I liked.
I remember being on the birth chair and my husband sitting behind. Massages on my lower back helped. I did some push. Michelle vigilant told me that she had liked that one, the push. I was not understanding what I had done and how to replicate it. Definitely, we are very capable of giving birth but isn't always a natural instinct for all. The power of the mind and the experiences have an uncontrollable effect. I never stopped listening to a: "I can't." That voice wasn't mine.
The mucous plug came out in the birth chair. At the moment, it gave me terror. To feel all of that coming out of me, reminded me of the Obstetric Violence. The duality was way too much. What a blessing to have so many midwives there with me!
I moved to the bed. I didn't want to. That submission position brought me a lot of PTSD and it hurt more. I accepted it because they talked to me with love and respect. They explained to me that there was visible progress with each push being in that position. At this moment, my membranes were coming out. They asked for consent to help me. They would insert their fingers to help like detach my membranes a bit so they would come out more easily. Each time I had less strength. It was already nighttime. I had not wanted to eat. I have been pushing for hours. My membranes were in and out. I didn't feel myself progressing. Oh, my mind… And when I consented to the help, they waited for my contraction, I pushed and I they did what I just described. No pain or trauma at all. They even held me so that I wouldn't lose all of my strength pushing with each contraction. And my husband, as a pillow I used. Poor him if he dared to get up!
The hours went by in this way. I squatted, I moved slowly and with difficulty. I only pushed when I had a contraction. I directed my pushes. I couldn't stop repeating: "I can't." I never stopped being scared of ending up in a hospital, (it can always happen). And they directed me to the toilet. Without any desire of pushing there, I went. I trusted.
While I was sitting on the toilet, I was informed that I had to be some time alone. I almost beg them crying not to leave me alone. With firm love they explained to me that they had to eat, that, at times, being alone the woman in labor finds her strength. I understood this completely. I have always preferred to do things by myself. In this instance, I wanted the company. But I did not want them to go hungry. And I knew that if I were not to progress there (on the toilet), we would have to consider something else. I understood. I remember that I had a previous cesarean. It hadn't even passed through my mind. And, at this moment, something change in me. I'm almost sure that I birthed, minimum, a hernia during this time. It was worth it.
Here I visualize Daphne as if it were today. I pushed in each contraction and she was the first to return from eating. My husband came in and out very quietly, but I always feel his energy. He never stopped being there for me and for everyone.
Daphne sat on the exercise ball in the bath. That way she would be by my side. Her presence was perfect in this moment! She did not talk. She made no noise. She watched me. I felt her support. She was a good friend. Michelle and Yarilís arrived. And I went back to the bed. I had to be where and how I had the most progress. I could have gone to the hospital. I know. I progressed by my own on the toilet. That was a good position. I even had a pillow.
6cm: Yarilís was called to another birth. I found my position in the small hallway. The ring of fire, head out and the negotiation with Michelle.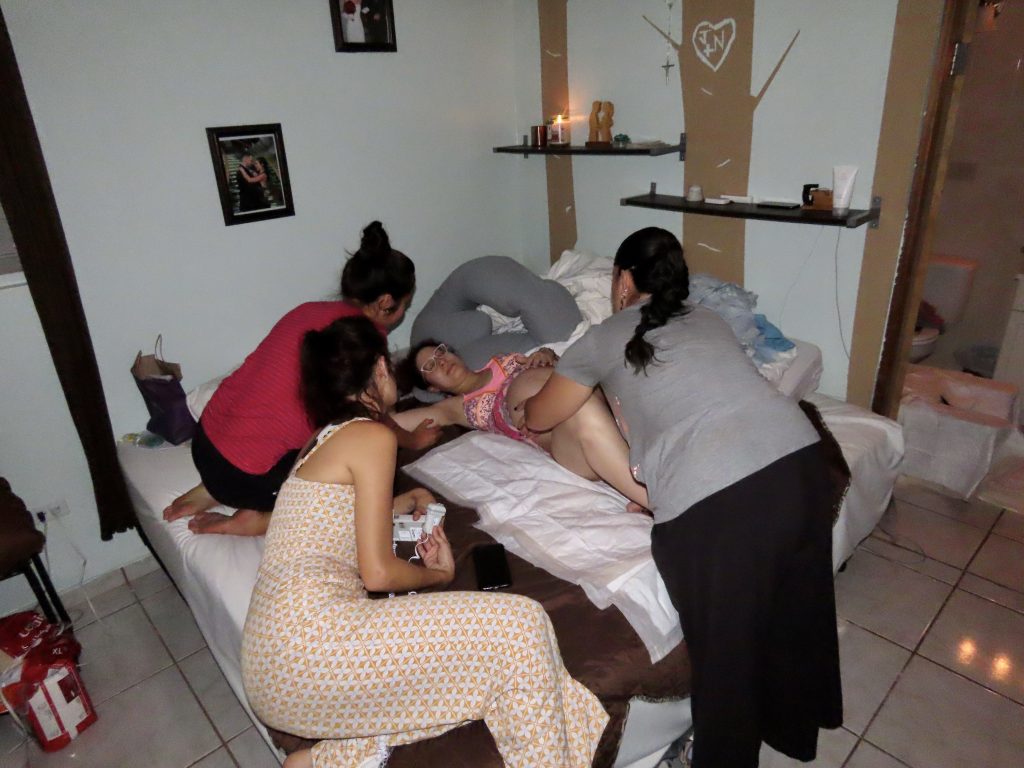 The fun begins. I thought I had felt pain. I would feel it now. There had been so much progress on the bathroom that they said, on the bed, that they could see the head. To me nothing was happening. I was desperate. I wanted to get her out. Michelle always reminded me to breath. Yarilís said goodbye. With Jessica Galarza, she had to go assist another mommy that went into labor. She assured me that I would soon give birth. I understood. I was happy for the other mother. I was left in excellent care. Still, I got distracted and upset like a baby. I'm sorry Yarilís. I got over it after hahaha.
I got out of bed and I ended up like stuck. I found my position! One leg up against the dresser and another one on the floor. I was against the bed. From having used my husband as a pillow, I hadn't felt so comfortable. I thought: couldn't they have a natural remedy, an herb or something that would alleviate me? I had been pushing for five hours. I was weak. I would not admit it, but I knew it. In that place, my small room's hallway, I pushed the head out.
My husband was recording, sometimes he spoke. I told him to shut up. They would laugh softly. I let the midwives speak. It's something difficult to explain. I just wanted my beloved to be there, but silent. The slightest thing broke my concentration. The lights were dimmed. There was a vanilla scented candle. But when they lighted with the flashlights to make sure everything was good: I lost concentration. I heard the camera and I lost concentration. And I screamed and screamed.
That hallway was another transition. It had gone like this: washing, laying down, bathroom, bed, pool, squatting on the floor, birthing chair, bed, toilet, bed, small hallway. I am very conscious of how hard it was for Michelle to maneuver when I was there. She had the love and patience, non existing in me, and so necessary in that moment. On the top of my head was Michelle. Daphne, (almost graduated during that time), in the front row.
My disconnection and fear were so much that even feeling the head descending and almost out, I was mentally stuck. José told me that he saw it, that it was almost there. Daphne said the same. They always checked my baby's heartbeat. At this point, that sound brought me peace and made me breathe correctly. Her heartbeat was very much connected to my breathing. Breathing is everything! And in each contraction I pushed. Michelle told me that I would soon feel the ring of fire, that I could touch the head. I took a breath and answered her that yes, I was already feeling. I did not want to touch the head. This was hard, but I was hopeful. There was no turning back.
The ring of fire made me feel as if I was going to break. I didn't think it was possible for my baby to pass through there without tearing me completely. An uterine rupture, due to the previous c-section, was not even on my mind. It was like being on another world, a trance. Along with each contraction I went away and came back to the world. I was hearing my son imitate my scream. He was playing in the living room and, later, he told me that he wanted me to hear him. We laughed. I continued screaming and saying that I couldn't do it. I told Michelle: take her out. She responded that I had to take her out myself.
I decided to listen more to the "yes you can, you're almost there, she's almost here, you're doing it." The voices in my head repeated a constant negativity with illogical explanations and without a base in reproductive sexual education that I had heard all my life: fears, adopted generational traumas. And I spoke to myself, my voice. I thought: "Let her brake me. For my daughter, for my son, for what they did to us, for what they said, for what they made us go through, for my family, for my marriage, for our relationship, for Rosa…"
I pushed out the head. Blessed small hallway! It supported me. Michelle had given me instructions to move. I kept on repeating to her that I couldn't. Without that support of the dresser and the bed, with what strength would I push? We came to an agreement. As soon as she would tell me, I would move. Reasonable. I agreed. And as soon as I pushed the head, the moment had arrived. I had to crawl to the bathroom floor. Everything had been sterilized and the floor was filled with liners.
7cm: Crawl, Expulsion, Ecstatic.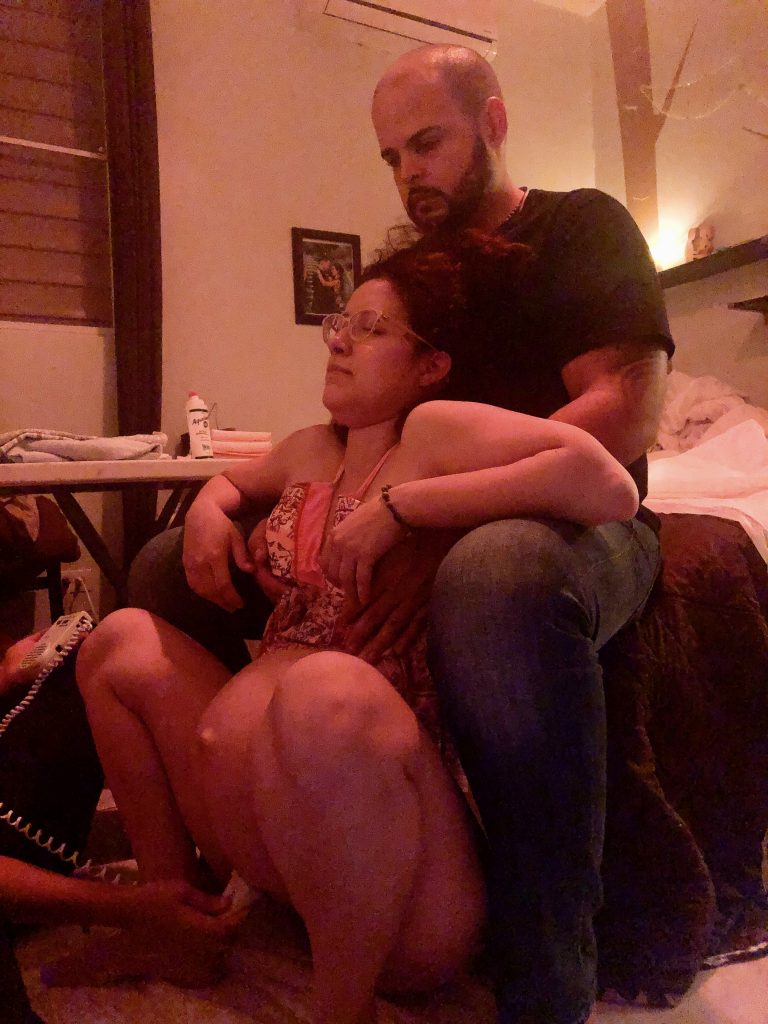 First, I 'fell' on my back. Michelle told me that in that position she couldn't maneuver. I answered that I didn't understood how I ended up like that, lying on my back. Looking at the video, this part makes me laugh. And I get on all fours. Mammal. I crawl and I get there. At last Michelle had complete visibility and access. My husband told me: for Rosa. Michelle indicated me that the next push had to be very long. Daphne was getting into position. They had a language and a communication that never made me lose my concentration. I trusted their knowledge. And I completed the second stage of labor. The body was out! It was no longer just the head out.
I knew that she could come with umbilical cord loops around her neck. I had educated myself more for this birth. I knew it was normal and there is no need to panic. My husband was a little scared. From my perspective, the most difficult thing had happened. I returned, although on a trip of oxytocin and pure adrenaline. Daphne caught her. Quickly Michelle undid the umbilical cord loops. A little rubbing and crying, of newborn Rosa and my José.
Michelle and Daphne told me not to get up. I had the umbilical cord attached to Rosa and the placenta still inside me. Mentally I said ooops, careful Niv. And they helped me lay down on the bed. The midwives gave me my daughter while they kept rubbing her. I couldn't stop telling them that they were the best. They all are. My husband, shaking from the emotion, handed them whatever they asked for. Now, all that was left was to deliver the placenta and store it. I would send it to encapsulate with @placentavida, another dream come true.
8cm: I gave birth to the placenta squatting with support. I breastfed and Dariel met Rosa.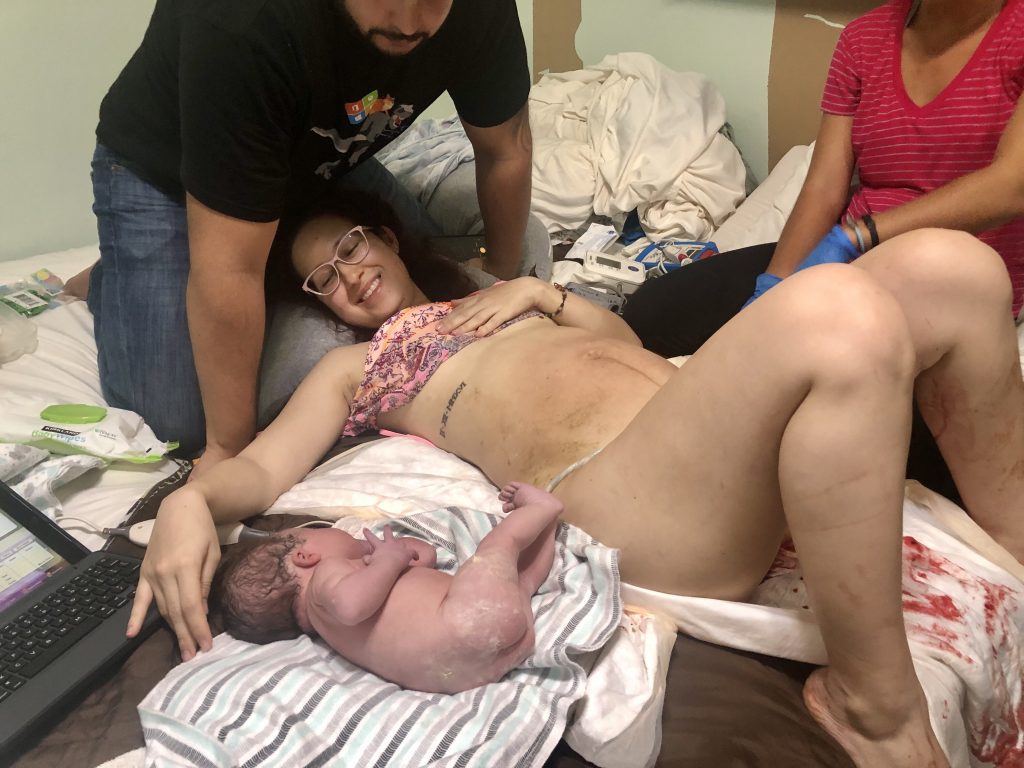 At a certain moment, Michelle says: "when you feel contractions tell me, to start delivering the placenta." My body no longer had strength. Since 9am I had been awake with intense contractions. I did not want to eat. I was almost refusing to drink water. I didn't sleep. I just rested. And pushing lasted for about five hours. The complete second stage of labor, time of birth, was at 11:04pm. I asked for help to deliver the placenta.
Michelle told me to squat on the bed. I told her there was no problem, but I needed José to hold me. He did. They told me to forcefully cough. This was so easy compared to everything before. If I could get out the placenta at home, we only needed to make sure that Rosa was healthy and it would be official that we didn't place a foot in a hospital. The placenta was out. It did not hurt. Michelle and Daphne checked me. They weighed and measured my daughter. I breastfed her.
Before delivering the placenta, I covered my blood a bit and called my son. His godmother held him, as we had indicated her, and they came in. He saw his little sister. My first baby was a big brother. Pure oxytocin in that room. We told him to leave so mom and little sister (Rosa María) could get cleaned. He wanted to touch her, clean her and we hadn't told him the name so he wouldn't say it. After this, the next day, he told his grandparents on the phone.
9cm: The umbilical cord and my small fainting.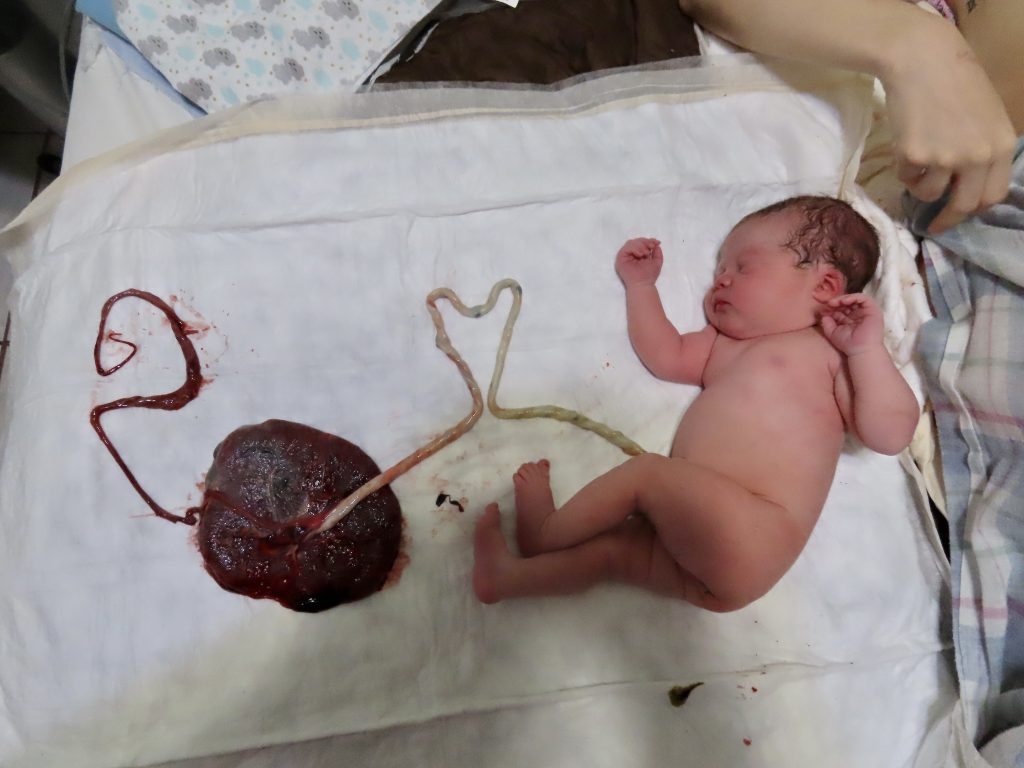 Honestly, I don't remember the exact moment of cutting the umbilical cord. Time did not exist. I know that my perfect girl was attached to her placenta until the cord turned completely white. We took photos. The placenta was small and very healthy. Both beautiful midwives told me that they could tell how well I had eaten during my pregnancy. Michelle said that I was 'membranes girl'. Also, they explained things about the placenta and its faces. The most impressive thing was how long was the cord and how difficult it was for José to cut. Another dream come true.
I wanted to clean myself up, take a shower. This had been a lot. I did not know when I would be able to take a good bath again. They helped me and Michelle warned that I could get dizzy. And, all of a sudden, I was on the bathroom floor. She stretched me. Daphne also helped me a lot. I thought: "ok, I won't take a bath hahaha." When I got to the bed, Michelle gave me IV. My countenance improved. They kept cleaning me up. Michelle said that she wouldn't leave until I ate. I told her to relax, now I would eat: lasagna, banana, powerade and water. I had to take all of the energizing drink.
10cm: Anything can happen. My Quarantine started. Grateful. I gave birth.
Rosa had a small episode. I hadn't shared it. I was calm and safe. My daughter fell asleep sucking. Daphne listens to her heartbeat, (they checked her constantly), and I hear her say: "her heart." There was a lot of concern on her face. My husband was out of the room. Michelle quickly rubbed her and put oxygen. Some time passed. José entered. I was confident that it was better to stay calm and that they knew what they were doing. José got really scared. Then I got scared. And… all good. Why did it happen? It often happens and we don't even find out being in a hospital. The transition from the uterus to the outside is not an easy one. She spent many hours going through. It's not easy neither for baby nor for mom. It has never happened again. We didn't have to run to the ER. I still turn her on her back asleep, just in case. We can never control everything. Anything can happen.
Michelle said: "Oh Nívea, oh Rosa, oh how difficult it was to give birth to the placenta…", etc. Daphne checked me asking for my consent and explaining everything. The perineum appeared to be well. I did not need stitches. I shouldn't get up. The instructions were to be at rest for 40 days (quarantined). I didn't know how this was going to be possible with two kids. My husband helped. It was hard. The home visits from the midwives were a balsam. To visit Centro MAM and receive congratulations for giving birth… Blessed. Grateful. My family was part of everything. Giving birth with midwives had to happen to me. Like a weed my son was uprooted from me and now we have blossomed. The perspective changed. My mental gaze dilated more than 10cm. I gave birth to a new me.